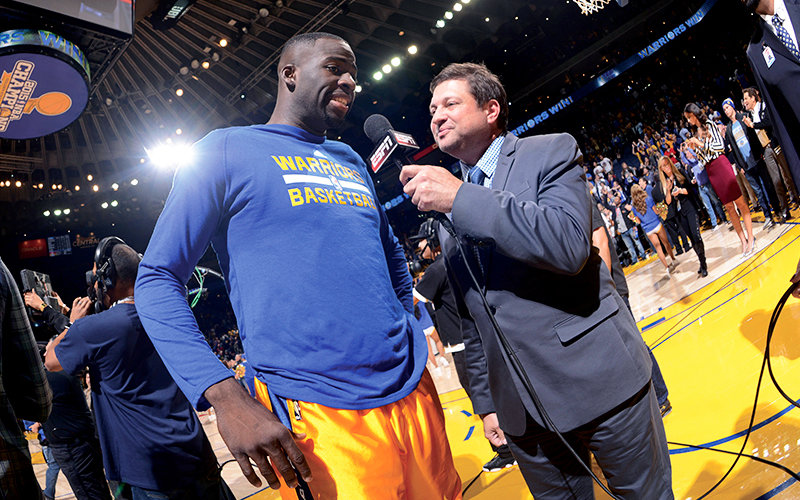 Marc Stein '91 (B.A. communications) is known for Titan mentions in his tweets and for his work as a senior NBA reporter for ESPN. He proudly dons CSUF gear often, even at the 2016 Summer Olympics while covering Team USA basketball in Rio de Janeiro for the network.
"I love my school dearly and have always taken great pride in what a journalism factory it was in the '70s and '80s," says one of the 2006 Vision & Visionaries Distinguished Alumnus Award recipients. We caught up with the three-time Olympic reporter at the start of his 15th season covering the NBA for ESPN.
What was most exciting about covering Team USA basketball at the 2016 Olympics?
I absolutely love international basketball — love the people, love seeing how much representing one's country means to these players, love how passionate crowds can get. The competition exceeded all expectations and featured ex-Titan scoring machine Josh Akognon as a member of Team Nigeria. Josh and I had a couple of nice visits in Rio; it meant a lot to both of us to be repping our school in Brazil.
What inspired you to go into sports journalism?
I legitimately knew from the age of 9 exactly what I wanted to be if I wasn't going to make it as a professional athlete. Once I turned 13, my plan got even clearer: I was determined to make the professional tennis tour as a traveling reporter if I couldn't make it with my racket. I realized that dream by starting out as a tennis writer before moving to the NBA beat halfway through the 1993-94 season.  
How did CSUF prepare you for your career?
We were a very proud Daily Titan staff that insisted on taking no wire copy and almost exclusively covering events on campus or related in some way to CSUF. Because so many Daily Titan staffers worked professionally at real newspapers on the side — especially sports writers — it was a very competitive environment. We all pushed each other to produce the best possible school newspaper.   
Which faculty members encouraged you most?
My relationship with then-Daily Titan adviser Jay Berman dates to a high school journalism camp I attended when I was 16. He was one of the leading instructors at that camp, and has been one of the strongest journalistic influences in my life. To this day, I still have his voice in my head. Rick Pullen, then the dean of the College of Communications, recognized my hunger and ambition at an early age and, instead of trying to rein all that in, encouraged me to aim high and did everything he could to put me in positions to succeed. I love them both dearly.
What skills do you consider essential for today's College of Communications graduate?
Versatility is crucial. This is the digital age, so you have to be adept at producing all kinds of content. Embrace every new social media tool that comes along, because you never know which is the one that will change the landscape quickly. I encourage any student
serious about a media career to try everything: Daily Titan, TV, radio, you name it.