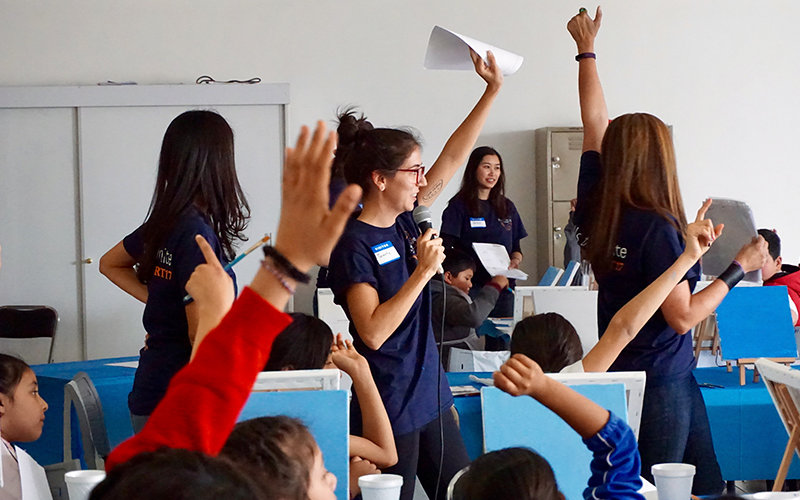 Business administration major Jordan Sosa sought to reconnect with his Mexican roots by signing up for a study-abroad experience focusing on Mexican muralism.
"There's no better way to learn the culture and history of Mexico than by taking an art class there," says the Guardian Scholar. "When I saw the murals, it gave me the opportunity to see the true face of Mexico."
With support from the Center for Internships and Community Engagement, Rose Adams led a group of students from different disciplines to Mexico City and Guanajuato to study the country's muralist movement.
Fast-paced and academically rigorous, "the class looks at murals to understand them in a cultural and historical context: when and why they were created, the space they were created in, and their relationship to literacy, education, social justice, identity … the list goes on and on," says the lecturer in art history.
But by all accounts, it was the students' opportunity to use their newly found knowledge and artistic expertise to help local youth that proved to be one of the highlights of the trip.
"We thought that our students would be able to tie in this experience of studying murals onsite by working with a small community, and create something visual that touches on important issues, such as education," explains Adams.
Students helped a group of children from the small town of Ojos de Agua paint small canvases that, placed together, became an education-focused mural that now hangs in the town's community center. The project, titled "Walls That Unite," was a lesson in academic application and relationship building, assisted by Ojos de Agua/El Novillero Community Club, a nonprofit organization that provides assistance and investment in vocational, educational and infrastructure projects. The nonprofit is led by alumnus Armando Solis '99 (B.S. civil engineering), who understands firsthand the impact of such interactions.
"When I was at Cal State Fullerton I was involved in different student activities, including the Mexican American Engineers and Scientists organization, where we worked with students from Anaheim High School," says Solis. "I knew that having CSUF students work with elementary school children in Ojos de Agua would have a strong impact on both groups, and hopefully inspire the kids to stay in school and become professionals."
Students, says Adams, were able to grasp why the muralist movement in Mexico was important.
"They saw the kids' empowerment, the pride they felt when they saw their own artwork — connecting with something visual that showed them what they could do."
The mural "united and created bridges among U.S. and Mexican students," says Teresita de la Torre, who is pursuing her M.F.A. with a concentration in drawing and painting, and who led the art activity in Ojos de Agua.
"There was an amazing range in the way the children thought about education," says Jade Jewett, chair and professor of art. "Our students were valuing their own education … and appreciating that education is transformative."
Students are now creating artwork based on their experience in Mexico that will form part of a Feb. 27-March 31 art show in the Center Gallery of the Titan Student Union. An opening reception will be held from 11 a.m. to 1 p.m. Feb. 28.
"When I was working with the children in Ojos de Agua, it brought me so much joy because I was once in their shoes. College was once a dream for me," says Sosa, who plans to go to graduate school.
"I hope to see this partnership continue," says Solis. "The connection between the students and the children was amazing to see."
As evidenced in the murals, and much like the reason the muralist movement took place, "the people do not reflect the government," says Sosa. "A revolution will happen through education."