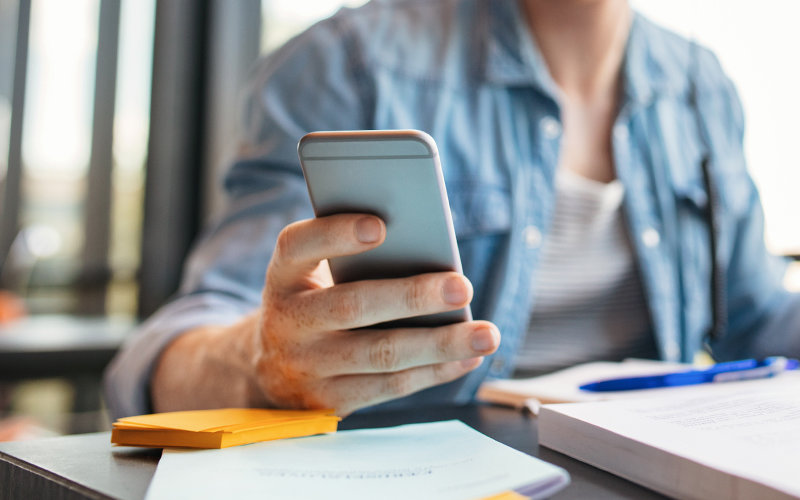 For students in need of a meal, locating free or leftover food on campus has just become easier through Cal State Fullerton's new Titan Bites app.
Developed by Auxiliary Services Corp.'s Campus Dining Services, Student Life and Leadership, Associated Students Inc. (ASI) and the Division of Information Technology, the app is part of the University's ongoing efforts to address food and housing insecurity on campus following a Cal State University report that 21 to 24 percent of students across its 23 campuses lack regular access to meals.
Students interested in signing up for Titan Bites should log in to their campus portal, click on the "Settings" icon in the top right corner and scroll to the "Student Account Settings" section. By clicking the "Edit" button next to the "Join Titan Bites Free Food Program on Campus" setting, they can designate whether they would like to receive push notifications via email or SMS notification.
According to the app's description, "The Titan Bites free food program invites you to be an after-event guest, when a catered event is over and food is available. By opting-in, you will receive push notifications informing you where to go on campus for free food. Food will be available for a limited time and is first come, first served."
"It is kind of an honor system. We want students in need of food to feel comfortable using this resource, without making them feel different," said Crystal Newman, marketing manager for Campus Dining Services. "We want students to know they can come, get food, walk out and it's not a big deal."
Four campus organizations — OC Choice Catering, ASI, Student Life and Leadership, and the Gastronome — currently have approval to push real-time notifications through Titan Bites.
"Once you push the notifications, you can't get it back, so we want to make sure it's in the hands of a key group of people who know how to use it properly," said Newman. "These groups cover a wide range of activities on campus, from student events to catered events."
Students in need also can get free meals at the Gastronome or other campus dining locations by contacting the Dean of Students Office. The Gastronome meals were donated by students and matched by Aramark through last fall's Donated Meals Campaign, and Campus Dining Services has contributed $5,000 in meals.
Plans for a CSUF food pantry are underway.
Related stories:
University Launches Emergency Fund for Students
Titans Collect Hygiene Products for Students in Need
Titans Tackle Food Insecurity
CSUF Task Force to Examine Homelessness, Food Insecurity