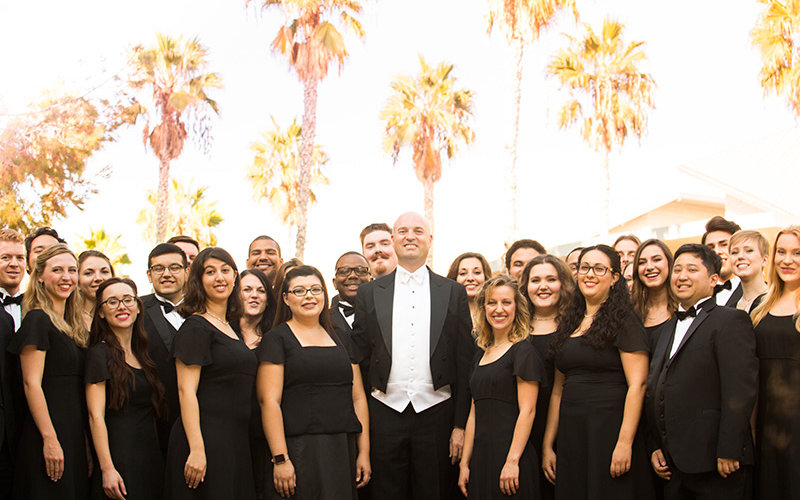 When the genius whose music kept you away from the ocean for much of your life calls, you answer. 
Last summer, the man responsible for some of the most recognizable film scores in history — from the terrifying main theme from "Jaws" to "Hedwig's Theme" from the Harry Potter films — asked the Cal State Fullerton University Singers to join him in the studio to record anew the compositions he created for some of Steven Spielberg's movies.
John Williams is no stranger to the University Singers, nor its members to him. The ensemble has joined forces with the Academy Award-winner several times in his annual "Maestro at the Movies" show at the Hollywood Bowl. For the album, the ensemble sang a piece from "Amistad" and one from "Saving Private Ryan."
"It was a magical day," says Robert Istad, professor of music and director of the choral program. "We walk in and the maestro is chatting with someone. And it's Spielberg! The maestro starts conducting, and Spielberg is walking around and becomes overcome with emotion during the 'Saving Private Ryan' piece.
"The students are singing. The composer is on the podium. He's an example of gratitude and professionalism. And when it's over, John comes over to thank the students. He's hugging the kids! And our students are getting this experience."
Call this a high note in a Cal State Fullerton choral student's academic career — one of many. "There's a long history of vocal music here," says Istad. "It all began with the clear vision of a few people back in the early days."
The First Movement 
David Thorsen, who retired in 1995, founded the University's choral program in 1960. He and Jane Paul Hummel, professors emeriti of music, assembled a strong team of voice teachers and educators. The result, according to Istad, was a "vocal hotbed" in what was still a relatively new university.
"David was the one who took the choirs to national conferences for the first time. He took them on European tours. He is the one who really established Cal State Fullerton as a major choral and vocal powerhouse," he explains.
Legend has it that Thorsen also infiltrated a student protest in 1970 to protect the newly built Performing Arts Center. "David was terrified because the building was brand new and the students' base of operations was the choir room. That's where they were living," says Istad. "He pretended to be a student and came in just to make sure that they weren't damaging the piano or the room because he was so proud of the building. They were using acoustic curtains as beds."
Another choral program pioneer, John Alexander, spent much of his academic career at Cal State Northridge, commuting regularly to Orange County to fulfill his duties as artistic director of Pacific Chorale. "Every big conservatory in the country wanted him. But he was really passionate about being in Southern California," says Istad.
When Thorsen retired, Alexander came to Cal State Fullerton in 1996 to head the program. "Thorsen had built an amazing choral program at Cal State Fullerton," explains Alexander. "The whole Music Department was extraordinary — but the choral program was huge."
Ten years later, Alexander decided to retire, as well. The University conducted a national search to replace him, but found the best successor in one of his own students: Robert Istad.
The Making of a Chorus
Each Cal State Fullerton choral ensemble — the Women's Choir, Titan Men's Chorus, Concert Choir and University Singers — has its own place in the sun. They each travel and have their own shows on and off campus. The most competitive chorus is the University Singers. Istad, and Alexander and Thorsen before him, believe the strength of the University's choral program lies in the great relationship between the choir director and the voice teachers. 
"That's not the case in most schools. The choir director often asks singers to sing with very constricted production," says Istad. "The muscles in your throat are so delicate; it's such a delicate, precise art form, learning how to control the musculature and the pressure of the breath, among other things."
Private voice teachers tend to discourage voice students from singing in the choir because they want them to focus on freeing up their musculature, and many choir directors ask singers to really "squeeze it in" to get a perfectly blended sound among all the singers.
"Thorsen was one of the first people to say no — you don't have to do that," says Istad. "He insisted that a conductor could free students to sing just like they do in their studios. A talented conductor must have the ears, musical skill and ability to create a unified sound within that vocal color. It takes more work.
"That's part of the secret — we've always had a really wonderful relationship between the voice studios and the choral program," he adds. "Always. My colleagues and I believe that good singing is good singing no matter the venue. And that's sort of our mantra. You can't separate the opera program from the choral program from the studio voice program — all the classes, the music education. That's what builds this strong sense of choral music here."
The school also boasts a 100 percent job placement rate for choral music education students in the teaching credential program. 
"In most universities and colleges that train teachers, students student-teach for a single semester in the last half of their senior year, and then they look for a job," says music professor Christopher Peterson, who directs the Concert Choir and the Titan Men's Chorus.
"Our students study to be teachers all the way to graduation, and then they receive their diplomas and reapply to the graduate school so that they can student-teach post-bachelor's for an entire year." During that year, they work under the mentorship of a master teacher in public schools and receive graduate credits that they can use to start their first job higher on the pay scale.
CSUF also has more music education methods classes that meet over several semesters and for longer periods of time than most other schools, he adds, as well as a credential interview that assesses the skills, abilities and professionalism of candidates who seek to student-teach. 
"What Cal State Fullerton has is this unbelievably unified faculty in the voice and choral areas that gives the students a comprehensive musical education that helps each one of them in whatever their chosen field is in the end — whether they want to pursue doctoral degrees, teach in universities or be performers," says Alexander. "It is one of the best designed programs I have seen in all of my work in education."
Another national search took place in 2015 when, after 44 years, Alexander decided to retire as artistic director of Pacific Chorale. Again, Istad was chosen to take Alexander's place, kicking off the 2017-18 season. 
Hitting the High Notes 
There was a surreal moment not too long ago when Sammy Salvador walked into El Torito restaurant and heard his grandfather's music interpreted by a mariachi band. "It was trippy," he says. Ricardo Sánchez, who made his name in Mexico heading the band Los Moonlights, would, no doubt, have found it 'trippy' to know that his grandson had performed a solo at Carnegie Hall as a member of the University Singers. Or that he had sung backup for Andrea Bocelli, or performed in Paris. 
This summer, the music education major will tour Scandinavia, the Baltics and Russia with the ensemble. After he's completed his bachelor's degree, he will pursue his teaching credential. "I really want to teach high school because that's where I got my passion for music," he says. "I think I could relate to that age range and instill a passion for music with them, too. And I still want to perform."
Much of the choral program's strength lies in the opportunities it offers its students, says Salvador. "Not a lot of places do these outside performances. Not a lot of people do this kind of repertoire," he explains. "But Dr. Istad puts his all into this program."
"These students have had to work so hard for everything they've ever gotten," says Istad. "They work two and three jobs. They help parents with rent and health care. To watch them succeed like this — to have careers, but also to have these experiences — you couldn't find a more deserving group of people in your life. And Cal State Fullerton has done that for them."
While Istad was pursuing his master of music at Cal State Fullerton, his mentor, Alexander, let him conduct the University Singers in performance while they toured with the Boston Pops Orchestra. "He gave me that opportunity as a student," says Istad. "And that's what this place is all about."