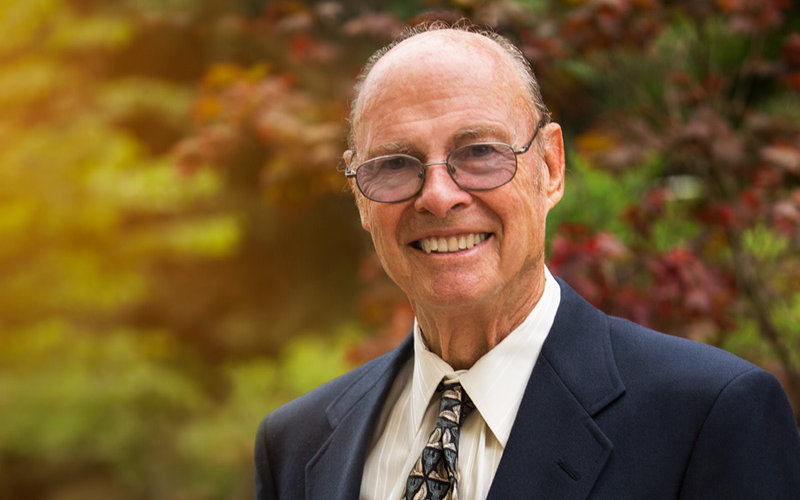 The University's Center for Oral and Public History, focused on recording Orange County's history, will now be named for Lawrence B. de Graaf, professor emeritus of history — a founding faculty member who helped create Cal State Fullerton's first archive and the Oral History Program.
The California State University Board of Trustees today approved the Lawrence de Graaf Center for Oral and Public History, in appreciation of gifts and pledges totaling $1 million from de Graaf and his late wife, Shirley.
"The naming recognizes Dr. de Graaf's exemplary leadership of the History Department and service to the University, including the creation of the Oral History Program," said CSUF President Mildred García. "It is remarkable that Dr. de Graaf's work and vision have made Cal State Fullerton's Center for Oral and Public History the largest oral history archive in the state of California. The collection stands out nationally for its grassroots nature and the wide range of diverse communities represented."  
His gift will have a "huge impact" on the center, said Natalie Fousekis, professor of history and director of the center. "It means we're much closer to achieving our fundraising goal, which will allow us build the new center," she said.
"It also means a lot to me that the center will be named for somebody who has inspired and pioneered oral and public history work on this campus."
As a founding faculty member, de Graaf helped establish the History Department and its curriculum and later served as the University's first archivist. He helped create the Oral History Program, which later became the Center for Oral and Public History. The center's student-driven oral history program will celebrate its 50th year in 2018, and the center holds nearly 6,000 recorded interviews, related transcripts, photographs and other materials.
"With Dr. de Graaf's generous gift, the center will continue to record and preserve the history of Orange County and Cal State Fullerton, to train students to create oral histories, and to make that history available to local, national and international communities for generations to come," said Sheryl Fontaine, dean of the College of Humanities and Social Sciences. "Dr. de Graaf's love of history and his quiet and intrepid support for COPH are truly inspiring."
The historian also authored a chronicle of the University's history, "The Fullerton Way: Fifty Years at California State University, Fullerton," and, over the years, became a specialist in Orange County history and the role of African Americans in the modern urban West.
"As early as the 1980s, he published articles arguing that we should be training historians for professional careers in business and public service, and not just assume that all students wanted to major in history because they wanted to teach," said Nancy Fitch, chair and professor of history. "He has not only inspired students, but enabled them through his generous scholarship to explore a variety of new areas of unexplored research, scholarship, and public and oral history today, so that they too can become pioneers."
Kristine Dennehy, professor of history, recalls de Graaf's inspirational historical storytelling.
"Students were transfixed when he talked about being in Washington, D.C., in the 1960s during the civil rights protests and unrest," Dennehy said. "He knew history was in the making so he went to the neighborhoods where things were literally exploding around him, and [he] started interviewing people in the local area about their opinions, experiences, etc. 
"In the days before cell phones, he took notes with a pen and his pocket notebook," she said. "These experiences, along with groundbreaking research on topics like history of African Americans in California, make Larry a real treasure at CSUF and in the history profession."
The educator's annual gifts to the University funded the Lawrence B. de Graaf Outstanding Graduate Student Award, and his philanthropy also includes memberships and donations to the Tucker Wildlife Sanctuary, the Fullerton Arboretum and the Ontiveros Legacy Society.
"It is important for CSUF faculty to give back to the University," de Graaf said. "That, to me, typifies what a lot of faculty, especially emeriti faculty, can do and it is a very important part of fundraising."