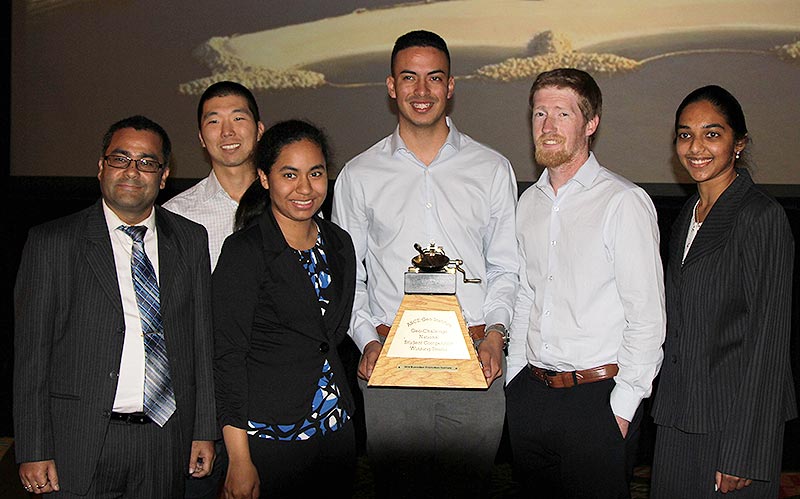 Cal State Fullerton student civil engineers clinched first place in the 2017 "GeoWall" competition at the recent Geotechnical Frontiers conference in Orlando — the third time a CSUF team has won the national championship.
The team had placed first for its design report in the preliminary phase of the competition. As a result, the Titans were among 20 collegiate teams invited to compete based on their top-ranked report. Previously, CSUF student teams won back-to-back national GeoWall championships in 2014 and 2015.
This year's CSUF team prevailed over competitors from: UCLA and UC Davis, Rensselaer Polytechnic Institute, Cal Poly San Luis Obispo, Cal State Long Beach, San Diego State and the University of Kansas, as well as the University of Australia.
The winning team members are: graduate student Eric Kim, team captain; senior John Stapleton; and sophomores Samantha Bahena and Jesse Solis.
For their win, the team members designed and constructed a miniature retaining wall, a type of support for such uses as bridge abutments, and earned the highest score with no penalties. The objective is to design and build a model of a wrapped-faced retaining wall, using the least amount of reinforcement to support the soil and design loads, explained faculty adviser Beena Ajmera '12 '11, a CSUF alumna and assistant professor of civil and environmental engineering.
"Our students showed that they understand the design of retaining walls. They tested out their theoretical design and articulated their findings in a concise manner," noted Ajmera, who participated in the competition as a student. "This competition also allows students to apply what they learn in the classroom to develop a practical and competitive design in a hands-on environment."
Bahena agreed: "You put what you learn in the classroom to the test and you're exposed to one of the many branches within civil engineering. This project helped me better understand geotechnical concepts, which will guide me in deciding what engineering concentration to focus on."
Ajmera added that the competition also helps to spark students' interest in learning more about what it takes to be a civil engineer.
Cal State Fullerton is the only U.S. team that has garnered three national championships over the last 10 years, has consistently ranked in the top-tier nationally, and won regional championships four times in row – from 2013 to 2016, noted former team adviser Binod Tiwari, professor of civil and environmental engineering.
The March 13 competition was organized by the Geo-Institute, one of the American Society of Civil Engineers' specialty institutes.