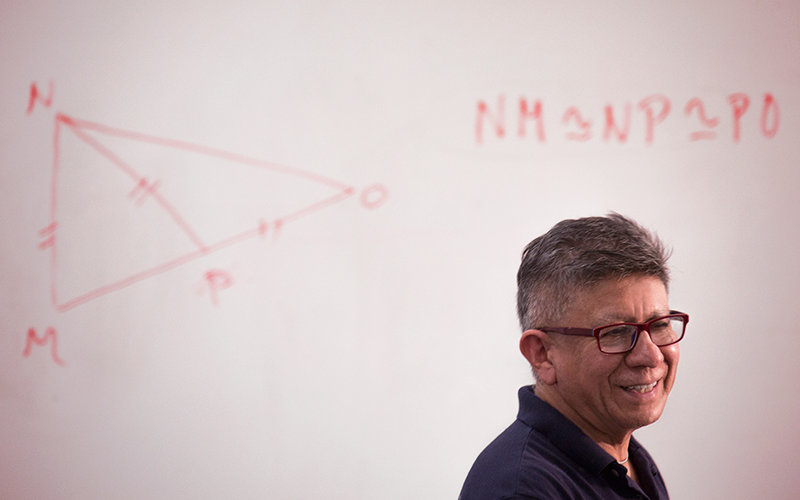 For more than 35 years, Cal State Fullerton mathematics professor Armando M. Martinez-Cruz has been a champion to prepare students for math success and to empower them to pursue higher education.
Since joining the University's faculty 16 years ago, Martinez-Cruz has been a mentor to many CSUF students, including those who pursue K-12 teaching careers. Through his teaching, he strives to create an environment that fosters learning and transformational change.
For his contributions to teaching and scholarly works, Martinez-Cruz is the recipient of the Outstanding Latino/a Faculty in Higher Education Award (Research Institutions) from the American Association of Hispanics in Higher Education (AAHHE). He will be recognized March 11 at the organization's national conference in Irvine.
The award honors an individual who has demonstrated excellence in both research and teaching and has provided significant contributions to his/her academic discipline.
"Dr. Martinez-Cruz has been an inspirational leader and has served as an exemplary role model for all students, but, particularly, Latino students. His expertise in the field of mathematics, teaching skills, creativity and passion for serving others make him an asset to the University and the local community," stated Silas H. Abrego, a trustee of the California State University and CSUF vice president for student affairs emeritus, in his nomination of Martinez-Cruz.
"He truly embodies the qualities this award represents — leadership, integrity and advocacy," Abrego added.
Martinez-Cruz, who has received the College of Natural Sciences and Mathematics' Outstanding Teaching Award twice — in 2005 and 2015 — said he is "humbled and moved AAHHE chose me for this award."
The mathematics educator, who was born and raised in Mexico City, developed a passion for the discipline in high school. His teacher, Mrs. Sanchez de Padilla, inspired and encouraged him to not only excel in the subject, but also to become a teacher. "She wanted us to learn and presented math in an exciting way," he recalled.
The first in his family to graduate from high school and college, Martinez-Cruz set out on a path so he could instill a love for math in his own students. He earned his bachelor's degree in mathematics from the Universidad Nacional Autónoma de México in Mexico City, and a master's degree and doctorate in mathematics education from Ohio State University.
"I am extremely proud that my parents saw me accomplish many things, for which they didn't have the opportunity," he said.
Martinez-Cruz's research seeks to improve the teaching and learning of mathematics. Over the years, he has been involved in numerous grant-funded projects that advance those goals. Most recently, he collaborated with CSUF education and mathematics faculty colleagues on a National Science Foundation-funded project to foster a strong sense of identity (identidad in Spanish) toward mathematics and science learning among Latino junior high school students.  
"Learning mathematics is influenced by the experiences students have with the subject," Martinez-Cruz points out. "I want students and teachers to be excited about mathematics. My hope is that students acquire a positive attitude towards mathematics."
Martinez-Cruz is the graduate coordinator of the master's degree program in mathematics-teaching option and is involved with the National Council of Teachers of Mathematics. He also volunteers his time to provide guest lectures and hands-on STEM (science, technology, engineering and mathematics) lessons to local K-12 students and families in both English and Spanish.
"I have the opportunity to work with many parents and families that do not know how to help their children in school," he said. "I feel that when I work with them I am working with my parents; life itself presents an opportunity to close the cycle and keep memories alive. I am so grateful for that."