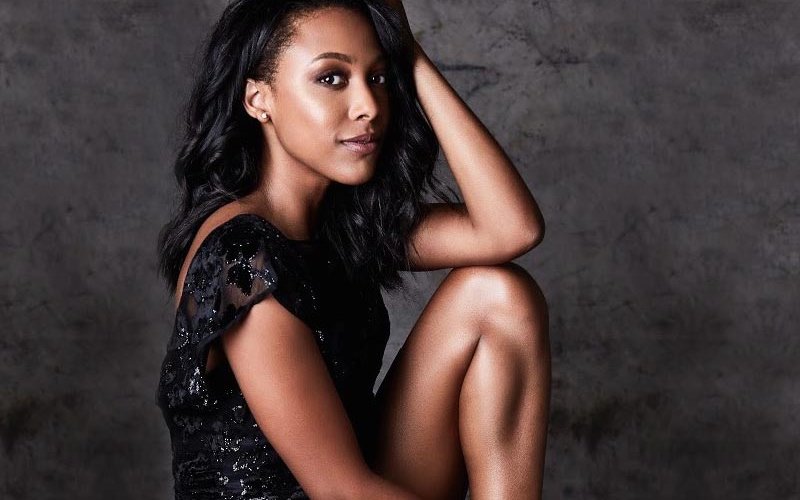 As FOX ponders the future of critical darling "Pitch," one of its stars, Titan Meagan Holder, is relishing being part of a show that has "a place on TV and in society right now."
She has shared screen time on TV and film projects with the likes of Kristin Chenoweth and Betty White — and ended on the proverbial cutting-room floor when her role in Clint Eastwood's "Jersey Boys" was "all but cut" — but her role as Evelyn Sanders is among her favorites. 
"As a woman of color, I love that I'm playing someone that's just a woman," says the actress. "The whole cast is diverse. We're not preaching any sort of story — we're just being people." 
Other takeaways from our chat with the theatre arts graduate:
She Loves Being a Baller's Wife
When Holder got the script for "Pitch," she loved that it was a story that had not yet been told, about the first female player in Major League Baseball.
"We've never really seen any female in a professional sport setting that's actually a player, whether it's baseball or any sport," she says. "And we're so inundated with reality TV and these ideas of ballers' wives, 'real housewives' types who have a lot of money. This script and the character I play, Evelyn, offered such a different side. I feel like the side that was written is really how it is in real life."
She Had a Love-hate Relationship at CSUF
"What I loved and hated about the theater program — although 'hated' is probably too strong a word — was that you had to keep auditioning to stay in it," says the Los Angeles native, who was raised in Corona. "But in hindsight, it was really good for me as an actor, knowing and learning about rejection." She passed all her auditions through senior year, but saw many who didn't.
Leading Ladies Inspired Her
Holder has a few favorite professors in the College of the Arts. "I loved Svetlana Efremova-Reed. I learned so much from her — the hard way and the fun way," she laughs. "She's a really great teacher. She's tough, but she really connects and teaches you things that you will not learn outside of school."
"Evelyn Carol Case is and forever will be one of the favorite women in my life. She teaches about taking care of your body, being connected to your breath and learning how to connect with your body," she adds. "I've really learned how much that helps. She also turned me to a lot of African American playwrights that have changed my life. I love that both Evelyn and Svetlana are actors as well."
She Practices What She Preaches
Holder's advice for acting students: "Focus on the work, not on the results of the work, because a lot of times auditions will not result in the job. You have to find some peace and cherish something about what you're doing.
"Don't cherish whether you have a starring role or not; I never had one at Fullerton," she adds. Auditioning for shows and not getting the parts that I wanted was really tough, but it also prepared me for that inevitable rejection that comes in this industry. Don't take the results you are or are not getting in school to mean that you will or will not succeed outside of school. Focus on the work you're doing now."