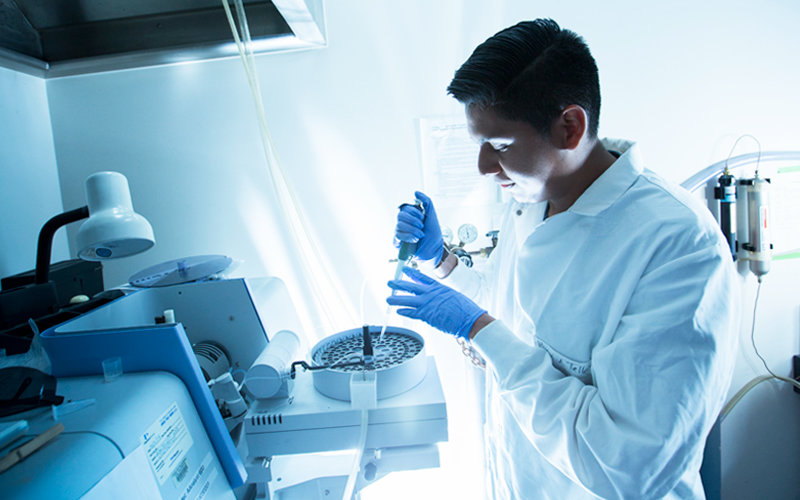 Cal State Fullerton undergraduate Miguel Tellez is an aspiring biomedical researcher who wants to contribute to a better understanding of the human body and use that knowledge to develop novel therapies for human diseases.
To accomplish this goal, he is conducting research in the lab of Maria C. Linder, professor of chemistry and biochemistry, focusing on an aspect of copper metabolism in the body that holds promise for new discoveries.
For his research efforts, Tellez has received a $3,500 Howell-CSUPERB Research Scholar Award from the California State University Program for Education and Research in Biotechnology (CSUPERB) for his project on the "Purification and Characterization of a Small Copper Carrier From Blood Plasma — A Structural and Physiological Study." CSUPERB partners with the Doris A. Howell Foundation for Women's Health Research to fund undergraduate student research projects on topics related to women's health.
Tellez's research centers on purifying and characterizing a copper-containing component that is present in the blood plasma of most mammals and is elevated in conditions where copper accumulates in the liver. This occurs in certain genetic diseases; it is also common in dogs, who frequently die of copper overload, said Linder.
"My project will allow me to contribute to the field of copper research by bringing to light the identity of small copper-carrying components," said Tellez, a biochemistry major who is on track to graduate in May and is the first in his family to attend college. He plans to begin his doctoral studies this summer in the biochemistry, cellular and molecular biology graduate program at Johns Hopkins University School of Medicine.
Tellez is a research scholar in the Howard Hughes Medical Institute (HHMI) program, led by Linder, and a past scholar in the CSU Louis Stokes Alliance for Minority Participation program.
"He is a young man of enormous potential," Linder said. "His project is exciting and is likely to lead to a breakthrough in the field of copper metabolism."
Why does this research interest you?
During pregnancy, copper transport and metabolism during embryogenesis involves aspects of copper metabolism, which are still poorly understood. Yet, every cell in a developing fetus needs copper. Additionally, we have evidence that when women take estrogen-based birth control, it changes the distribution of copper in plasma and elicits large amounts of small copper carrying components. As such, understanding these small copper carriers in the blood plasma is paramount to understanding healthy copper metabolism in women during menstruation and pregnancy.
What are the benefits of working on this research?
Because of this research project, I have learned many analytical and biochemical techniques. I've also had the opportunity to present my work at conferences, and by being a part of the HHMI undergraduate program, I learned how to read scientific literature and now better understand other areas of science.  
How has your faculty mentor helped you in achieving your academic goals?
After working with Dr. Linder, I discovered what it meant to be a researcher. She has given me encouragement and has helped me down the academic pathway to earn a doctorate.  
How did you become interested in studying science?
In the first grade, I became interested in science after I fed a caterpillar. After some time, it turned into a butterfly, and I was in awe. I wanted to understand what I was seeing. My love for science pushed me to do well in school so I could pursue a career as a scientist.