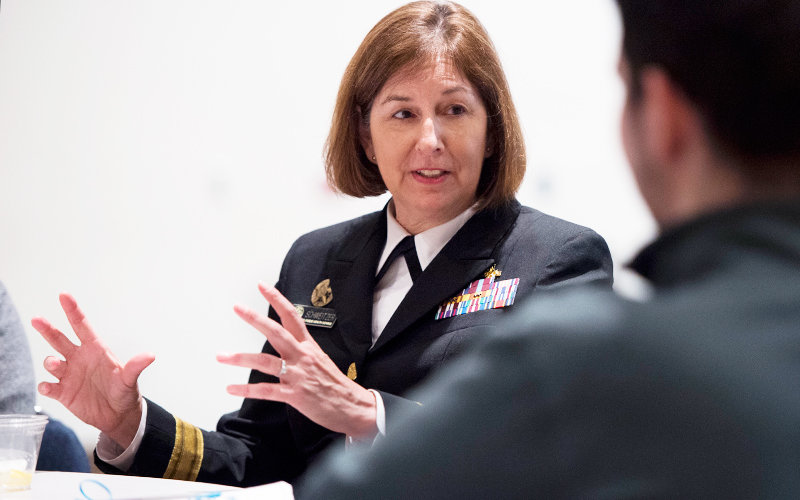 "Have you ever heard of Ebola or Zika? Or Flint, Michigan, and Hurricane Katrina?" Rear Admiral Pamela M. Schweitzer posed these questions to the Cal State Fullerton students she met with during a recent visit to her alma mater.
As the first female chief professional officer of pharmacy and assistant surgeon general in the U.S. Public Health Service, Schweitzer helps to improve and advance the health of the country's population. She also leads America's public health responders —  commissioned public health officers deployed to such places as West Africa during the Ebola virus outbreak, Puerto Rico to tackle the spread of the Zika virus, New Orleans following Hurricane Katrina, or other public health emergency responses and needs.
The biological science alumna recently returned to campus to meet with students interested in pursuing health profession careers, as well as ROTC cadets and science faculty mentors.
The Public Health Service's team of more than 6,700 public health professionals — including pharmacists, physicians, nurses, dentists, scientists, engineers and veterinarians, among others — work with over 22 federal agencies, such as the Department of Defense, Centers for Disease Control and Prevention and Indian Health Service.
Appointed to her four-year post in 2014, Schweitzer leads 1,300 commissioned pharmacists within the Public Health Service. She provides leadership and coordination of the pharmacy program and professional affairs for the Office of the Surgeon General and Department of Health and Human Services.
Early in her career, Schweitzer joined the Public Health Service because of the promise of adventure, she told students, encouraging them to risk going beyond their comfort zone to find their life's work. She signed up for a two-year commitment as a clinical pharmacist with the Indian Health Service and served at an Indian reservation in Pine Ridge, South Dakota.
"Once I got there and saw what it meant to impact someone's life, I was hooked on public health and making a difference to improve the health of that particular population," she said.
After two years, she left for a post with the U.S. Department of Veterans Affairs in Hot Springs, South Dakota. After several years, she re-enlisted with the Public Health Service and has served 24 years in various assignments. She currently is stationed in Baltimore, serving at the Centers for Medicare and Medicaid Services, in which she assisted in implementing the Affordable Care Act.
Schweitzer grew up in Yorba Linda, graduated from Troy High School, rode her bike to Cal State Fullerton and earned her bachelor's degree in 1982. She received her doctor of pharmacy from the University of California, San Francisco, School of Pharmacy. She currently is pursuing a master's degree in health administration at USC.
It had been more than three decades since the married, mother of two college graduates walked the corridors of McCarthy Hall. During her campus visit, she recalled how she knew and admired late biology professor Miles D. McCarthy, founder of the University's health professions program and for whom the building is named.
"Dr. McCarthy was so nice and encouraging. He and my other professors were so passionate about teaching — they got me excited about science and learning.
"College is a time to grow up," she added. "I feel lucky that I was here at Cal State Fullerton and pursued a career that I love — to help people and improve the health of communities in our country."