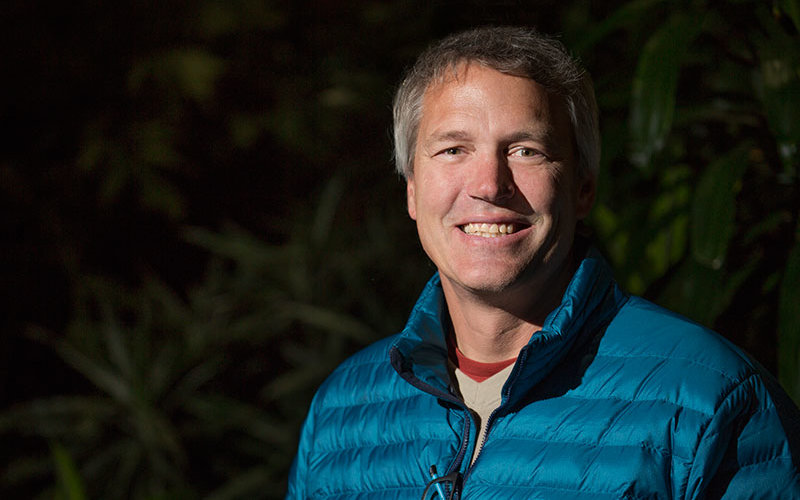 For over 25 years, ecologist Darren R. Sandquist, professor of biological science, has taken countless treks to California's arid regions to study plant ecology and teach his students about the rare and threatened plant and animal species, as well as the importance of conservation.
"I love seeing others discover how amazing deserts are," said Sandquist, who studies how desert plants manage to grow, survive and reproduce in an environment with so little water.
Now in his new role as director of the California State University's California Desert Studies Consortium (CDSC), Sandquist is taking steps to advance cross-disciplinary research, education and training to better understand desert ecosystems.
The consortium of seven Southern California CSU campuses operates the Desert Studies Center at Zzyzx, located within the Mojave National Preserve, a federally protected area about 60 miles northeast of Barstow. CSUF serves as the host campus, providing administrative oversight of the desert field station. In its 40th year of operation, the Desert Studies Center attracts more than 2,300 visitors a year, including students, faculty members and other research scientists from across the globe.
Sandquist became consortium director last fall when longtime director William "Bill" Presch, professor emeritus of biological science, stepped down after serving in the post for 24 years.
What is your new role?
The consortium promotes research, education and outreach related to our California deserts. As director, I oversee consortium programs and operations of the center. This includes developing student academic skills and public awareness through instruction, research and special projects and programs — in and out of the classroom.
Why did you want the job?
I applied for the position because I'm a great believer in the consortium's mission and field-based education. Having used the center since I arrived at CSUF in 1999, I believe it is an irreplaceable resource for both education and research, and I want to help increase the visibility and appreciation of both the consortium and center.
What has been the most rewarding so far?
Two things: The passion for the center expressed by our users — ranging from CSUF students who have visited multiple times to first-time visitors from as far away as the United Kingdom. The place can be infectious. What I always look forward to most is being at the center when students are there and seeing them discover and learn, and maybe even get hooked on desert research. We've also received tremendous support from practically every level at CSUF, and I really appreciate that commitment.
What is your vision for the center?
I can't stop thinking of things I'd like to see us accomplish. One of the main emphases right now is to increase our role in desert research. Research meets many important educational objectives, in addition to providing evidence-based information for decision-making and prudent management of desert ecosystems. I also want to provide greater opportunity for underrepresented students in STEM disciplines to both participate in academic field experiences and engage in field research.
I also look forward to building stronger relationships with our partner universities and with the Mojave National Preserve. Collectively, we have a tremendous amount of expertise in desert systems — and the consortium should be instrumental in mobilizing that expertise to help address the current and rising challenges faced by the wild and human residents of these arid environments.