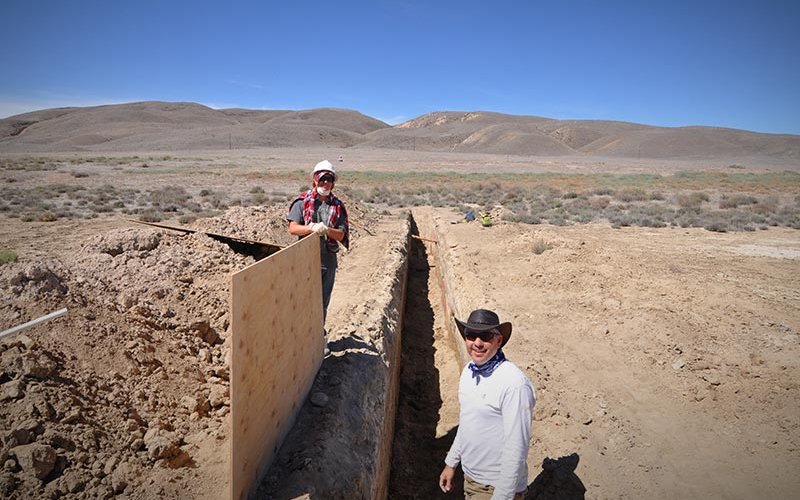 Sinan Akçiz, assistant professor of geological sciences, is a structural geologist and paleoseismologist who studies the times and magnitudes of past earthquakes along fault systems that affect people. He also is passionate about training the next generation of field-oriented earth scientists.
"I am committed to preparing my students to be hard-working, critical thinkers and lifelong learners, regardless of their career aspirations," said Akçiz, who joined Cal State Fullerton this academic year and previously was a lecturer and researcher at UCLA. 
Akçiz earned his doctorate in geology from Massachusetts Institute of Technology and holds a bachelor's degree from Istanbul Technical University in Turkey.
What inspired you to go into your field and what was the defining moment?
For my Ph.D. thesis, I was investigating how India collided with Asia starting about 50 million years ago. Then a major earthquake near my hometown in Turkey happened in 1999. My family and friends had to live through a lot of devastation. It was then I decided to work on more applied research projects.
What are your research interests?
In my recent projects, I try to determine the ages of past earthquakes and their magnitudes on active faults in Southern California. This gives us a better understanding of what future earthquakes along these faults might look like.
How do you engage students in your classes and/or your research?
I present real-world examples, share real field experiences and offer many hands-on learning opportunities. Data for my research is collected mostly in the field. I will be working with several undergraduate and graduate students in my field projects and include them in tackling some exciting questions about earthquakes.
What changes do you envision in your field five years from now?
More systematic and multidisciplinary approaches are in our future. During the past two decades, we realized how simple and inadequate our views of the earthquake-generating fault systems are. Statisticians, paleoclimate researchers and paleoseismologists will be working more closely than ever.
Can you share your thoughts — the odds — about the next "Big One?"
I will just say that the southern San Andreas Fault is capable of producing an earthquake as large in magnitude as the 1857 Fort Tejon earthquake. And that was magnitude 7.9! At a minimum, people should store extra water to last for about a week. If you are a long distance commuter like myself, make sure your family has a plan in case the earthquake happens when you are on campus or away from home.