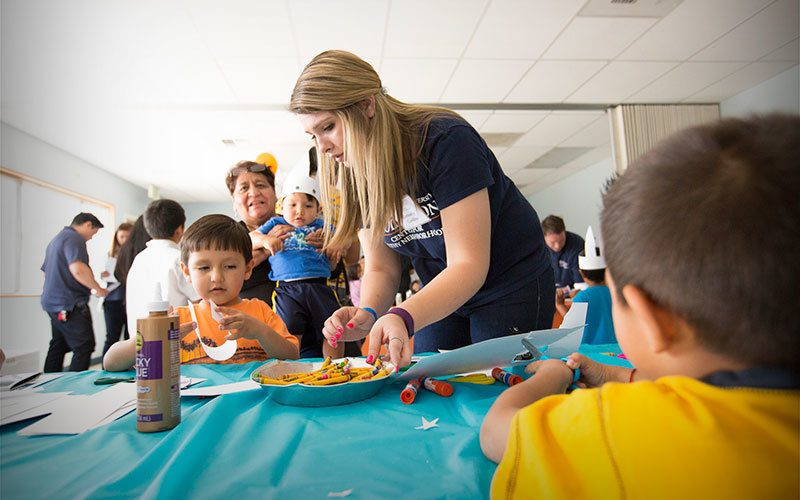 Between tours, one-on-one chats with student experts and plenty of food, more than 100 people learned about the impact of Cal State Fullerton's Center for Healthy Neighborhoods in Richman Park during an April 11 open house that also commemorated its one-year anniversary offering programs and services to the local community. 
"Health and education disparities plague many communities in Orange County, including the community we are standing in today," said C. Jessie Jones, professor emeritus of health science and the center's director. "At Cal State Fullerton, we saw an opportunity to help revitalize some of these communities by partnering with our community organizations and inviting our students, many of them who are first-generation, to help provide health, education and social services to economically disadvantaged families. 
"It is through engaging the community that our students have an opportunity to have a part in helping a community transform, while also gaining the skills they need for their future careers," she added. 
Indeed, well over 100 CSUF students have been able to provide "a hand up" to more than 350 families during the past year while gaining valuable hands-on experience. In addition, 18 community leaders have gained advocacy and community-organizing skills, while nearly 100 students from area schools have received after-school tutoring. The center also has been able to provide counseling and behavioral health services in eight elementary Title 1 schools, thanks to a grant from St. Jude Hospital. The center offers chronic disease management, parenting classes, health assessments, financial literacy workshops, job readiness workshops, community events and more. 
The Center for Healthy Neighborhoods, explained Laurie Roades, dean of the College of Health and Development, "is a unique collaboration between Cal State Fullerton, the city of Fullerton, our community partners and local residents who call this neighborhood home." She and Jones thanked all participants, including donors "who have made it possible to open our doors."
Roades recognized Jones as much more than the visionary behind the center. "She's a chief architect behind many of the programs that are helping transform this neighborhood. She spends countless hours establishing key partnerships with organizations that are committed to restoring our community — and perhaps most significant of all, Jessie's a mentor to the Cal State Fullerton students who provide the services at the center. She's a friend of the community members who walk through its doors."
"This is just one example of what can happen when our amazing faculty and staff come together to take care of those who are the most vulnerable," said CSUF President Mildred García. "You've heard so many people talk about health and wellness. Well, this center is walking the talk for our communities, for our families, for our students. Our students are getting first-hand knowledge of how to work in communities." 
Jasmine Magdaleno, the center coordinator, was honored for her work; she hopes to attend Cal State Fullerton once she graduates from high school. Also in attendance were Sharon Quirk-Silva '87 (multiple subject credential), assemblywoman for the 65th District; Doug Chaffee, mayor pro tem of Fullerton; former assemblywoman Young Kim; and representatives from the offices of State Controller Betty Yee, U.S. Rep. Ed Royce and state Sen. Josh Newman.