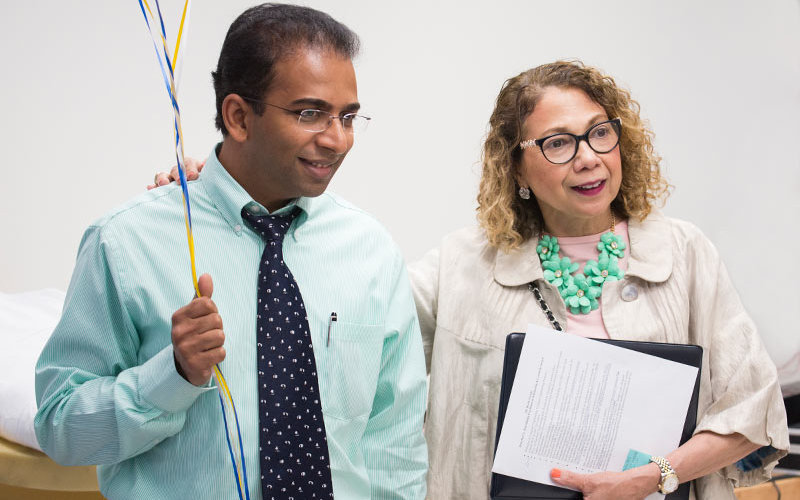 From developing a brain-controlled robotic arm for people who lose mobility in limbs to an electronic communication system to aid patients who can no longer speak, Cal State Fullerton computer engineering professor Kiran George has been a transformational force in innovative research.
His colleagues call him a prolific researcher whose accomplishments in his nearly 10 years on campus are unprecedented in the College of Engineering and Computer Science. For his outstanding research and contributions to education, George has been selected as this year's recipient of the L. Donald Shields Excellence in Scholarship and Creativity Award.
The award is presented to a faculty member each year for his or her excellence in research and scholarly activities and commitment to the educational mission of Cal State Fullerton. The award's namesake served as Cal State Fullerton's second president from 1970-80.
In a surprise visit April 13 to his class of senior computer engineering students, President Mildred García announced to George and students that he was selected for the 2016-17 University award and offered her congratulations.
"You have an amazing faculty member working with you," García told the students inside the engineering lab. "Well deserved," she said, turning to George, who stood speechless.
Taken aback by the accolade, George said after the announcement, "This is an extraordinary honor, I'm so humbled. I am at a loss for words. I am truly blessed to have the opportunity to work with students on various projects that are both challenging and cutting edge.
"It is also professionally fulfilling to see them go on to have successful careers. My students inspire me every day to redefine the boundaries of engineering."
Since joining the University in 2007, George has secured more than $1.85 million in external funding for his research, including grants from the National Science Foundation and U.S. Army Research Labs. In 2012, he was given NSF's Faculty Early Career Development (CAREER) Program award, a top honor for junior faculty members who exemplify the role of teacher-scholars through research and education.
George has led a $600,000 NSF-funded project that targets first-generation college students and underrepresented students and is spearheading the college's efforts to develop a bachelor's degree program in engineering with a biomedical device engineering option. He and his students have presented research at regional and national conferences, and he has two patents pending for his research. George and his students also work on projects with industry and community partners, including the ALS Association to help patients with amyotrophic lateral sclerosis, or Lou Gehrig's disease.
What distinguishes George is his engagement of students in his research, said Susan Barua, interim dean of the college, who nominated him. "Dr. George constantly thinks about student success and improvement of student learning," she said.
George, who directs the computer engineering program, has mentored over 250 undergraduates and graduate students on a range of novel and real-world projects. Current and former students praised George's mentorship and guidance in the classroom and in the lab.
Following García's announcement, computer engineering student Craig Varner noted it wasn't so surprising to see his professor get the award. "He's always an excellent teacher. He's deserving of the award."
Classmate Josh Herrera added that George challenges students by giving them hands-on research experiences that help them land their first jobs or go on to graduate school.
"You get to use what you learn in class — and go beyond that," Herrera said.
Alumnus Dylon Mutz, '15 (B.S. computer engineering), a circuit design engineer at Northrup Grumman Corp., in a letter of support, also lauded his former mentor. "Without his support, I would not have stood out among the many other applications and would not have the exciting, cutting-edge career I have today," Mutz said.