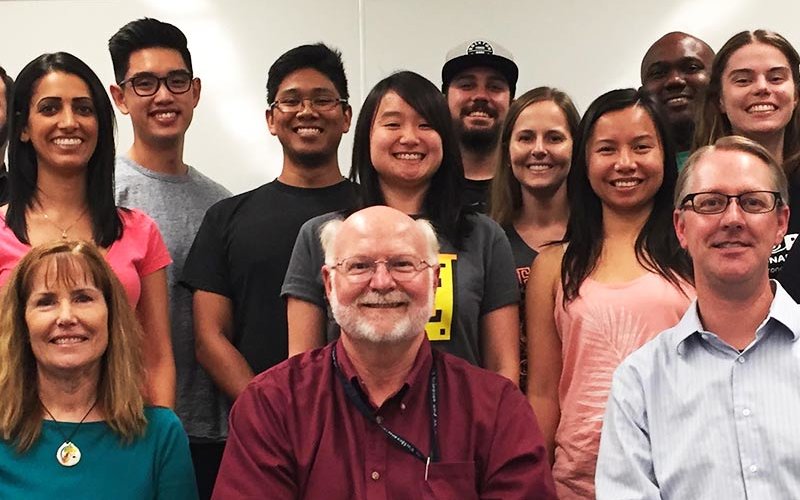 To strengthen the teaching and learning of mathematics in underserved middle schools and high schools in and around Orange County, Cal State Fullerton has been awarded a nearly $3 million grant from the National Science Foundation.
The five-year grant supports the project, "Advancing Teachers of Mathematics to Advance Learning for All," with the University receiving $1.7 million to fund the first three years and additional funding to be awarded in 2020 and 2021.
Through the project, 20 experienced teachers of mathematics — master teaching fellows — will be selected from area high-need school districts that serve English language learners and students from low-income families.
"We know from research that all students have the potential to make sense of mathematics, yet traditional U.S. approaches to mathematics instruction do not provide the access and support many students need to realize this potential," said Mark Ellis, professor of secondary education.
Middle school and high school teachers are targeted because "this is a pivotal time during which students' self-concepts about, and interest in, pursuing mathematics are crystallized," Ellis added.
Ellis will direct the project with Ruth Yopp-Edwards, professor of elementary and bilingual education, and mathematics professor Martin V. Bonsangue. Project partners are Anaheim Union High School District and the National Board for Professional Teaching Standards.
Recruitment is set to begin this spring with fellows selected by Oct. 1. Fellows will receive a $17,000 stipend each year and must commit to working in a high-need district for five years while participating in the project, as well as complete all project requirements, including working toward earning National Board certification. Fellows also will serve as mentors to CSUF credential students, organize professional growth opportunities for peers, and plan and participate in an annual summer institute.
The project aims to prepare fellows to become proficient with research-based mathematics teaching practices and foster expertise with a "culturally responsive mathematics teaching" approach, noted Yopp-Edwards. Research shows that this approach improves students' attitudes toward, and success with, mathematics and promotes active learning by building from students' prior knowledge, and their cultural and community experiences.
"Teachers who consider cultural and social connections between their students and the mathematics being studied are more likely to create an inclusive learning environment in which students feel a sense of belonging and make meaningful connections to the content," Yopp-Edwards said.