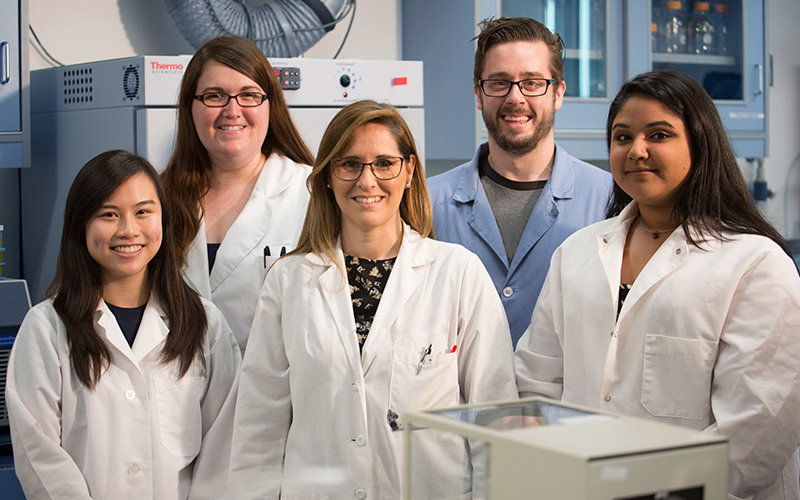 Graduate student Noopur Dave is often asked why she studies the parasite "Trypanosoma cruzi" that causes an infection called Chagas disease.
The disease, spread by insects called triatomine bugs or "kissing bugs," was once endemic only in Latin America, but today, it is spreading to the U.S. and Europe, said Dave's faculty mentor, Veronica Jimenez, assistant professor of biological science.
"The threat of this infectious disease is here in the United States," Dave adds. "It's important to study this parasite to pinpoint a potential drug therapy because currently, there is no FDA-approved drug to cure Chagas."
With over 300,000 cases in the U.S., it is considered a preventable infection, yet it can cause heart diseases and has been associated with increased risk of stroke, Jimenez explained. Due to the lack of research on such tropical diseases, Chagas disease is one of five parasitic diseases targeted by the Centers for Disease Control and Prevention for public health action.
"Its spread is raising concerns regarding its globalization and epidemiological importance," Jimenez said. 
To advance her faculty-student investigation on Chagas disease, Jimenez has received multiple grants, totaling more than $1 million. Most recently, she has been awarded over $550,000, including a $404,813, three-year grant from the National Institutes of Health. The American Heart Association has awarded her $154,000 over two years, including first-year funding of $77,000.
Dave, whose master's thesis is based on her research, is one of eight graduate and undergraduate students working with Jimenez to find treatment options for this parasitic infection.
"I strongly believe in empowering women and minorities to actively participate in science. Research gets more creative and productive when we incorporate different points of view and think outside the box," Jimenez said. "Bringing people from different backgrounds is a great way of making better science, while providing opportunities for growth in our communities."
The researchers are investigating how the parasite is able to sense changes in its environment, successfully adapting to them and infecting human hosts.
"Our studies could contribute to the identification of selective drug targets that lead to the elimination of the parasite without negatively affecting humans," Jimenez added.
Their work also could be useful to better understand vector-borne diseases like Zika and West Nile viruses and Lyme disease.
Dave, who earned her bachelor's degree in biological science in 2013 at CSUF, has won numerous accolades for her research. She also has been invited to present her research at an international molecular cell biology meeting April 22-26 in Massachusetts.
After she completes the master's program in biology this summer, Dave will begin her doctoral studies in biomedical sciences at Indiana University School of Medicine, Indiana University-Purdue University Indianapolis, and plans on a career in academia — teaching and studying infectious diseases.
"By working in Dr. Jimenez's lab I have gained a tremendous repertoire of skills relating to basic molecular and cell biology techniques," she said. "Dr. Jimenez taught me how to be a good researcher, and overall, has been a great role model."