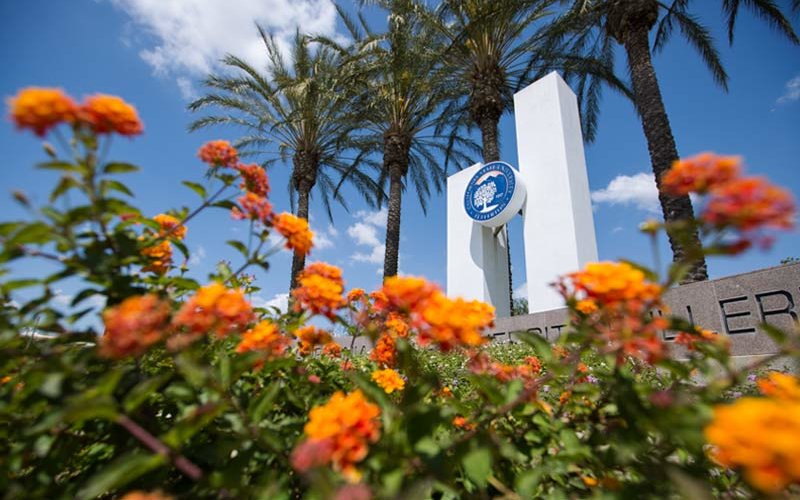 Seventeen Cal State Fullerton undergraduates and graduate-level students were recognized with this year's Outstanding Student Scholarly and Creative Activities Awards during an April 12 program held as part of Student Creative Activities and Research Day.
Now in its fifth year, the awards recognize excellence in student participation in research or creative activities, either working collaboratively with a faculty member or independently. The Student Creative Activities and Research Day featured a student poster/exhibit session, as well as the awards presentation, in Portola Pavilion of the Titan Student Union.
In addition to the following award recipients, three Outstanding Poster/Exhibition Awards were awarded.
Outstanding Student Scholarly and Creative Activities Award recipients were selected from a pool of 76 nominated for the honor by faculty members. The winners, listed by college, class level, major and mentor, are:
College of the Arts
Undergraduate: Jessica Vela, senior, dance 
Faculty mentors: Debra Noble, professor of theatre and dance, and Lisa D. Long, assistant professor of theatre and dance
Graduate: Laura Black, MFA – art-exhibition design
Joanna Roche, professor of art
College of Communications
Undergraduate: Victoria Serafini, senior, cinema and television arts
Hunter Hargraves, assistant professor of cinema and television arts
Graduate: Allison Paff, communicative disorders
Phillip Weir-Mayta, assistant professor of human communication studies
College of Education
Graduate: Jennifer Lord, special education credential
Melinda Pierson, chair and professor of special education
Doctorate: Renah Wolzinger, educational leadership-community college leadership
Carol Lundberg, professor of educational leadership
College of Engineering and Computer Science
Undergraduate: Haroon Khan, senior, electrical engineering, minor physics
Geoffrey Lovelace, assistant professor of physics
Graduate: Mohammed Khalid, civil engineering
Binod Tiwari, professor of civil and environmental engineering
College of Health and Human Development
Undergraduate: Siena Morgan, senior, health science
Pimbucha Rusmevichientong, assistant professor of health science, and Jessica Jaynes, assistant professor of mathematics
Graduate: Ryan McManus, kinesiology
Andrew J. Galpin, associate professor of kinesiology
College of Humanities and Social Sciences
Undergraduate: Agnieszka Pollard, senior, psychology and women's studies
Lisa Mori, professor of psychology
Graduate: James Zerbe, anthropology
John Patton, professor of anthropology
Mihaylo College of Business and Economics
Undergraduate: Han Tran, senior, business administration-finance and marketing
Steven Chen, associate professor of marketing
Graduate: Ameya Agavekar, information systems-business analytics
Daniel Soper, associate professor of information systems and decision sciences
Natural Sciences and Mathematics
Undergraduate winners: Alyssa R. Garcia and Nick Demos, seniors, physics
Geoffrey Lovelace, assistant professor of physics
Graduate: Calvin Duncan, biology
Paul Stapp, professor of biological science
Recipients of the 2017 Outstanding Poster/Exhibit Awards, their major and faculty mentor, are:
Christian Do and James Shade, mathematics
Adam Glesser, associate professor, and Matthew Rathbun, assistant professor, mathematics
Justin Stewart, Brandon Hawkinson, Michael Negrete, Timothy Parks and Shan Liyanage, computer science
Doina Bein, assistant professor of computer science
Mercy Tran, psychology
Susan Sy, professor of psychology