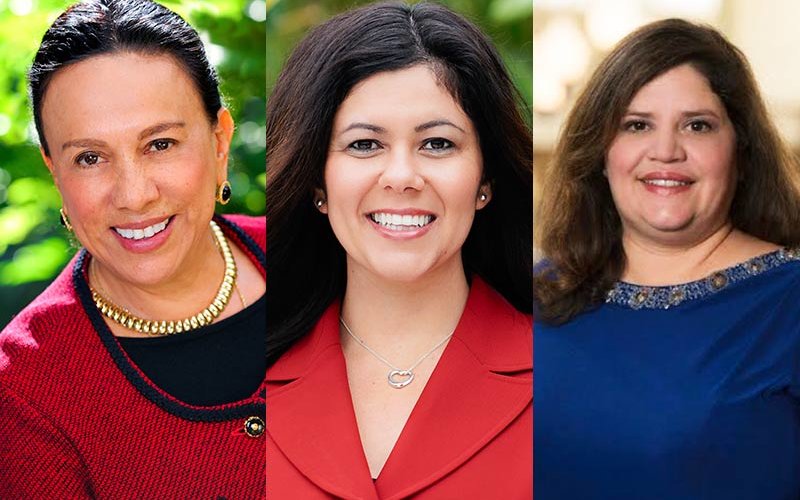 The oral histories of nine Latina community activists, including Santa Ana Mayor Pro Tem Michele Martinez '09 (B.A. criminal justice), are featured in "Voces de Liberación: Latinas and Politics in Southern California," a graduate-student-curated exhibit in the Pollak Library April 27 through June 21.
An opening reception in the campus Quad at 5:30 p.m. Wednesday, April 26, will include an oral history performance followed by a special viewing of the exhibit in the Salz-Pollak Atrium Gallery.
Graduate history student Jael Müller curated the collection from the Lawrence de Graaf Center for Oral and Public History's "Women, Politics and Activism Project," led by Natalie Fousekis, professor of history and center director. Graduate students studying history installed the exhibition and developed all its programming while supervised by Margie Brown-Coronel, assistant professor of history.
Visitors to the exhibit, sponsored by the center and the University's Department of History, can hear the oral histories on iPods or on their own mobile devices, using the SoundCloud application. The exhibition's audio tour is available here.  
Among the voices is Theresa Smith of Placentia. She shares her thoughts on her role as an activist — a role she took on after her son, Caesar Cruz, was shot 15 times in the back while he sat in his car unarmed and still buckled into the seat belt. Her son had been racially profiled as a gang member because of his race, his bald head, his tattoos, she said. Her activism resulted in the proposal and passage of Assembly Bill 953, known as the Racial and Identity Profiling Act of 2015. The act requires California law enforcement agencies to report detailed information about each stop, including the perceived race, ethnicity and gender and a reason for the stop.
"The work of a community activist is not easy. It's not easy at all," says Smith. "An activist doesn't get paid for this. They do it all on their own time, but, in the end, and especially when you see some results finally come to fruition, that, in itself, is the greatest reward or award you could get … to see that you've been a part of a change for the better. I do this, like I said, for my son. I do it for his sons, for my grandsons, for the future of all of our sons and daughters and because, in activism, there is no gender, race, religion. We're all one human race."
Funding for the exhibit was provided by the College of Humanities and Social Sciences, CSUF and the Associated Students Inc. Funding for the oral histories was provided by the John Randolph Haynes and Dora Haynes Foundation. For more information, visit the Lawrence de Graaf Center for Oral and Public History.