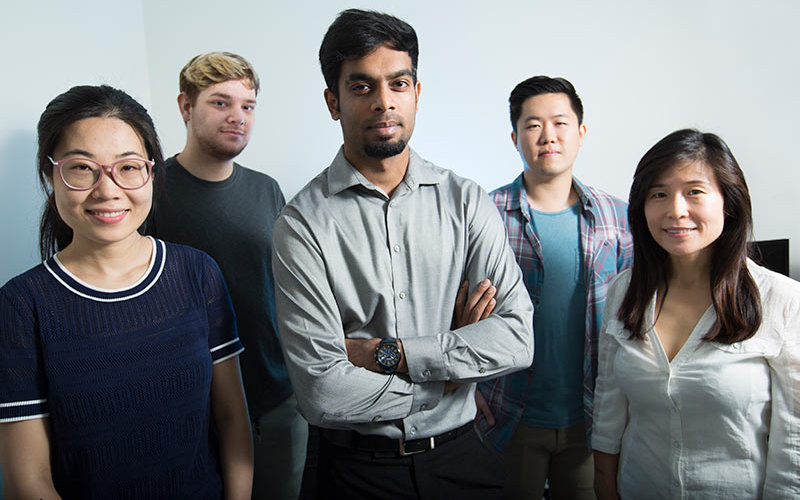 Imagine hackers maliciously modifying critical software used in airplanes, stealing secrets that are a matter of national security and disrupting a company's operations.
A team of Cal State Fullerton computer science students worked with the Boeing Co. this spring to develop computer security approaches to help the company protect itself from cyberattacks.
Boeing reached out to CSUF's Center for Cybersecurity, housed in the College of Engineering and Computer Science, to leverage the creativity and expertise of the center's faculty members and students to develop novel ways of measuring the effectiveness of their security controls.  
Five research students — senior Jacob Biloki and graduate students Zhangying (Mandy) He and Daniel Kim, along with Karthik Karunanithi and Yu Liu, who are both graduating this Saturday, May 20 — worked with Boeing mentor William J. Westwater, program manager, Information Security Governance.
"Our priority is to fuel Boeing's second century of talent and innovation by fostering world-class university relationships and delivering benchmark entry-level career programs that align with our enterprise-wide business goals," said Sharon Lucas, Boeing's program manager for Strategic Work Placement. 
The project gave students the opportunity to gain industry experience for their future careers, said Mikhail Gofman, associate professor of computer science. Gofman, director of the Center for Cybersecurity, and Shawn X. Wang, professor of computer science, are the team's faculty advisers.
Enterprise or computer security is a critical part of the day-to-day operation of many companies as they strive to protect their customers, assets and intellectual property from cyberattacks, which pose an imminent threat, Gofman explained.
"The stakes are especially high for large companies like Boeing that build mission-critical systems, work on important government projects and risk losing millions to cyberattacks," Gofman said.
For students, the opportunity to partner with an industry leader puts them at the forefront of computer and enterprise security.
"I learned that when it comes to system security, it is not just software that is vulnerable, but hardware, and operational and procedural systems must also be addressed. For companies, security controls and compliances are equally, if not more, important," said Liu, who will earn her master's degree in computer science. 
"In my new job, I'll always have security in mind," said Liu, an international student from Xi'an, China, who has landed a job as a software development engineer at Amazon in Seattle.
Biloki added that working on a real-world cybersecurity project gave him insight and exposure about how to determine the effectiveness of security controls. "Learning how to apply computer security ideas that I learned in classes and completing this project will hopefully help me get my foot in the door at a company after I graduate," said Biloki, who is on track to finish his studies this fall.
To protect against cyberattacks, companies must implement security controls, policies and measures — both technical and organizational — in order to prevent and deal with security threats, Gofman emphasized.
The students and faculty members drafted a manual of procedures for Boeing, outlining details of how the company can measure the effectiveness of each and every control designed to protect its diverse technology environment from cyberattacks. 
"We helped to define methodologies for measuring their security policy controls," Liu said. "It's important for companies like Boeing to turn the policy standards into actionable controls."