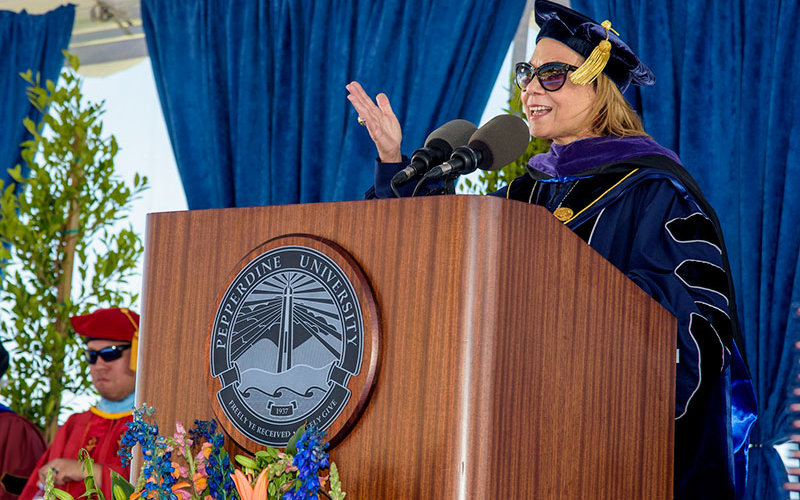 On May 20, President Mildred García received an Honorary Doctorate of Laws from Pepperdine University, where she served as commencement speaker before the Graduate School of Education and Psychology.
As she greeted the Class of 2017, she said: "Some of you might be wondering why the president of Cal State Fullerton is a commencement speaker at Pepperdine University. Well, for starters, our institutions have a great deal in common: Both are located in sunny Southern California, both offer doctoral degrees in educational leadership, and both of our football teams went undefeated this year. Again. Seriously, it's like we can't lose.
"But perhaps the biggest similarity is the value both institutions place on diversity and social justice."
She read the mission statements of both institutions and noted the similarities. Both stress fairness, equity and inclusive education.
"These are not just words collecting dust on some shelf; they are the tenets upon which our respective institutions were founded … That is why today, we celebrate far more than a degree achieved; we honor a dream realized, and I am proud that each of you now joins [us] in being the change we want to see in the world so the next generation of diverse students encounter less obstacles and more opportunities, less discrimination and more equal pay, less broken hopes and more broken glass ceilings."
García shared her story of being born to parents who migrated from Puerto Rico to New York in search of a better life. Soon, the family of nine was living in a Brooklyn tenement on the factory wages earned by her hard-working parents.
"They had no more than eighth-grade educations — not from lack of intelligence, but from lack of equitable access to quality education — and while we never felt poor, our poverty led to a phrase, coined by my parents, that has become the through-line of my career: La única herencia que una familia pobre le deja a sus hijos es una buena educación. The only inheritance a poor family leaves its children is a good education."
After the Brown v. Board of Education ruling, García was placed in a new educational environment rather than the underserved schools in the projects. In this new environment, she was taught French, received music lessons, and was taken on field trips to the Met and to Broadway plays — educational methods now called high-impact practices.
"Today, I stand before you a first-generation college graduate and the first Latina president in the largest system of higher education in the country because of those opportunities and because I continue to believe in the power of the aforementioned phrase my parents instilled in me. To me, this phrase transcends poverty and low-income students, tapping into a universal truth about education: It is the great equalizer, and when we as educators ensure everyone has equitable access to it, all communities are lifted, and all children are left with an inheritance they can bank on and their parents can be proud of.
"Yes, it originated as a Spanish phrase from two Puerto Rican migrants, but it is no less American than the words written in our Constitution, etched on the Statue of Liberty, or spoken by our most beloved leaders.
"… Indeed, with your profound achievement today comes profound responsibility, for you are now a beacon of hope and opportunity for the next generation and every diverse student you go on to teach, mentor and lead … Make us proud in all that you do in the classroom and community; make a difference."