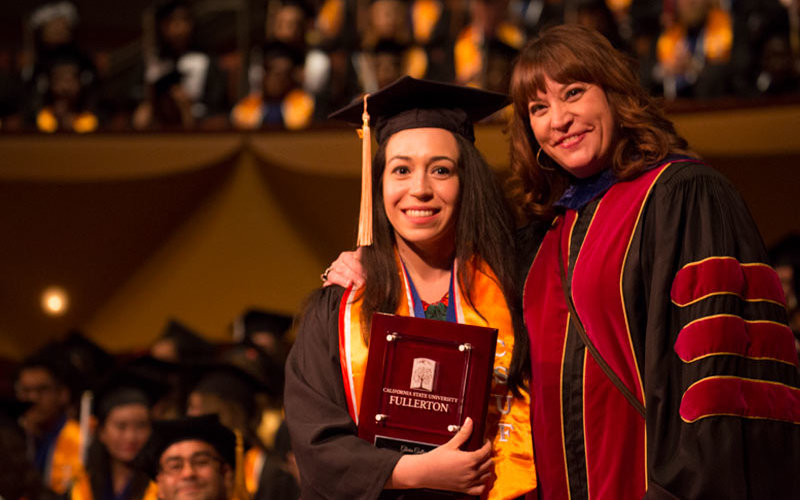 When Gloria Alexandra Gallardo was 15 years old, her parents asked her if she'd rather have a quinceañera or the opportunity to travel for a summer. For her, it was the easiest question in the world.
The teen packed her bags and set off for England, France, Germany, Monaco and Italy with a group of other students — igniting a love for travel that stayed with Gallardo through her college career at Cal State Fullerton.
Joining the Class of 2017, the health science major is the first in her family to graduate from college and is the recipient of the University's annual International Experiences and Global Engagement Award.
"With any type of career or passion, it's important to not just be restricted to what is available here and what we know here," said Gallardo. "We need to go out into the world, learn from those experiences and bring them back."
During her time at CSUF, Gallardo founded the Spanish for Health Services Club to increase cultural competencies for future health professionals; participated in a three-week ethnographic research project of the prevalence of cancer in Vieques, Puerto Rico; and volunteered extensively with the American Heart Association, for which she received the 2016 Community Engagement Award for Outstanding Student Leader.
"I gained so much from my experiences at Cal State Fullerton," she said. "I absorbed so much from my classes, and I have had many mentors who have given me amazing advice and would drop everything to help me."
In addition to inspiring her love for travel, Gallardo credits her parents with fueling her passion for service and health care.
"My dad is always out in the community and wants me to stay connected to my culture," she said. "And my mom has always encouraged me to be a go-getter, to seek out opportunities and to explore the world."
Taking another cue from her mother, who previously worked as a certified nursing assistant, Gallardo plans to pursue a career in the medical field.
"When I saw how she treated her patients, I just loved that," said Gallardo. "She inspired me to want to work with vulnerable populations so I can help people have better lives."
Just days after commencement, Gallardo is packing her bags for her next adventure — traveling to Thailand for 10 weeks where, as a Minority Health and Health Disparities International Research Training Program scholar, she will conduct HIV research alongside students and faculty members from both CSUF and Chiang Mai University.
During this time, she will consider her next steps: research or medical school, emergency medicine or epidemiology. "I'm keeping my options open," she said. "There's not just one way to treat a person or to help make access to health care more equitable."