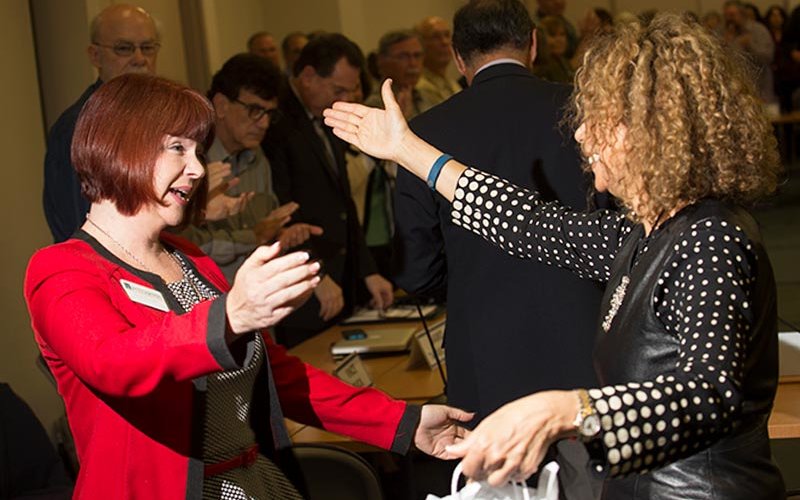 "When she first arrived on our campus, she had only a high school diploma," said CSUF President Mildred Garcia as she began to introduce this year's recipient of the 2016-17 Outstanding Lecturer Award, Shelli Wynant, before the Academic Senate.
"Today, she holds dozens of certificates of completion from professional development activities and three earned degrees from Cal State Fullerton," García continued. "She is now one of the institution's most decorated and impactful full-time lecturers."
García noted Wynant's 20 years of service in the classroom and in the community, as well as her teaching style "grounded in active participation that leads to lifelong skills of analysis, knowledge acquisition and self-confidence."
The announcement for the lecturer in child and adolescent studies was greeted with applause and a standing ovation for the surprised alumna.
"Thank you," said Wynants. "It's great to come to CSUF every day. I'm a teacher because of all the great teachers I had. I couldn't ask for a better life."
Those who have worked with her praise Wynants' enthusiasm and dedication to teaching and students.
"Regardless of what she is teaching, Shelli makes sure that her courses are up-to-date and engaging, and that she employs best practices throughout," said Katherine Bono, chair and associate professor of child and adolescent studies.   
"Her energy level and enthusiasm are second to none, which makes her courses interesting, challenging and fun," said student academic services counselor Victoria Cafasso who assisted Wynants in teaching University 100 courses in 2013 and 2014. "She inspires everyone to do his or her best work."
"Shelli has a remarkable record of teaching and service," agreed Pamella Oliver, interim associate vice president of academic programs and professor of child and adolescent studies, noting Wynants' work as director of the department's peer mentoring program and as a faculty adviser to the Child and Adolescent Studies Student Association.
Bono stressed Wynants' early leap into online teaching and her efforts to "ensure a high-quality experience for the students …," as well as her work on the department's Online Instruction Committee and as an adviser to students majoring in child and adolescent studies.
"She has been my mentor for almost three school years, and I have learned an incredible amount from her," said Sara Kong '16. "Shelli goes above and beyond to provide creative and clear instruction to her students. Her unselfish dedication to make sure that all of her students succeed has provided vast knowledge to me and many students."
That dedication to student learning is reflected in her involvement in her department's Assessment Committee and her work in the development and implementation of the assessment program, added Oliver. "This commitment is beyond any expectation for a lecturer."
Such commitment also can be seen in her efforts to improve and enhance teaching on campus for all students. Wynants co-chairs the University's disABILITY Task Force Committee and created an online disability awareness and certificate program.
"Through this program, she has helped to improve the quality and accessibility of materials for students and helped to train faculty in outstanding instructional strategies," said Oliver.
"I believe she epitomizes the excellence in teaching which this award represents," said Jessica Dennis, associate professor of psychology at Cal State Los Angeles. "I have known Shelli for more than 11 years and have had the opportunity to collaborate with her on a number of educational endeavors. It is astounding to me how many ways Shelli has made important contributions at CSUF… She is an inspiration to those who meet her, whether they are students, faculty or otherwise."
Wynants holds bachelor's and master's degrees in psychology and a Ed.D. in educational leadership-higher education, all from Cal State Fullerton. She has taught on campus since 1996 and full time since 2001.