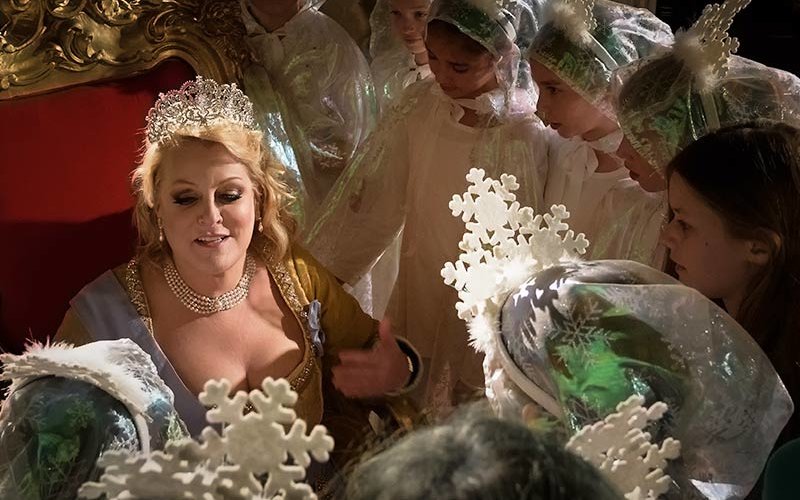 "Vireo: The Spiritual Biography of a Witch's Accuser," an artist residency project of Cal State Fullerton's Grand Central Art Center, will make its broadcast television premiere Tuesday, June 13, at 8 p.m. on both KCET in Southern California and Link TV (DirecTV375 and Dish Network 9410) nationwide.
Created and composed by Lisa Bielawa, the serial opera is a multimedia initiative created for online and TV release. The 2.5-hour broadcast will be a special edition of KCETLink's Emmy® award-winning arts and culture series ARTBOUND. 
All 12 episodes of "Vireo" will become available for free, on-demand streaming May 31 at KCET.org/Vireo and LinkTV.org/Vireo.
The award-winning opera features the work of more than 350 musicians, including soprano and CSUF alumna Deborah Voigt. The main character, Vireo, is played by teen soprano Rowen Sabala. The opera also showcases the talent of the Kronos Quartet, the San Francisco Girls Chorus, Magik*Magik Orchestra, the Orange County School of the Arts Middle School Choir, and many more. 
"Vireo" summer screening events include:
Wednesday, June 21
6-10 p.m.
Day of Music at the Plummer Auditorium
201 E Chapman Ave, Fullerton, CA 92832
Sunday, June 25
2 p.m. and 6 p.m.
Cowell Theater at Fort Mason Center for Arts and Culture 
2 Marina Blvd., San Francisco, CA 94123
(ticketed event) 
Friday, July 7
7 p.m.
National Sawdust
80 N. 6th St., Brooklyn, NY 11249
(ticketed event) 
More information is available online.