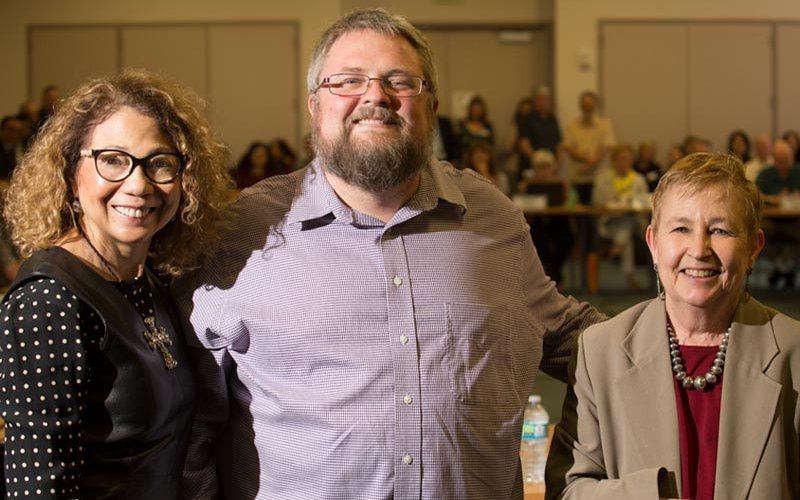 Throughout his 13 years on campus, Sean Walker has served on committees and subcommittees focusing on topics that range from the University Master Plan to student fees, enrollment management and information technology.
He has served on the University's Academic Senate as a senator, vice chair and chair, as well as on the Statewide Academic Senate.
For all these reasons, the professor and chair of biological science, was honored today as the 2016-17 recipient of the Faculty Leadership in Collegial Governance Award.
"As you all know, one of the most important things we can impress upon our students is to get involved in University life," said President Mildred García in making the announcement. "But we cannot ask this of them if we do not get involved ourselves, and there is no better example for our diverse students in this arena than the recipient of this year's Faculty Leadership in Collegial Governance Award."
The recognition left Walker speechless, but later, after a robust Senate discussion on two proposed new courses, Walker called the honor humbling. "To be recognized alongside those who have been honored before. … We have a great community of people here and the only way to make it all work is to work together."
It's that sort of thinking, recognized by both García, peers and others who have worked with him, that led to this honor.
"In the years since joining the faculty, Sean has distinguished himself as a leader within our department, college, University and the CSU. At each of these levels, Sean's priority has been promoting student success, respecting the contributions of our diverse faculty and staff, and ultimately making decisions and plans based on empirical data," wrote fellow biological science professors Kathryn Dickson and Merri Lynn Casem.
"Key to his success," they added, "has been his commitment to making decisions after a process that involves consultation, identifying key issues, collecting and analyzing appropriate data and then working to ease any necessary transitions, always with the good of students, faculty, staff and CSUF in mind."
"When I arrived at the institution in 2012, Dr. Walker was vice-chair of the Academic Senate, and his leadership was integral to establishing and enhancing the collaborative energy between the senate, my senior leadership team and all facets of the campus community," said García. "… the result of this synergy led to the creation and implementation of our strategic plan and the ongoing student success born from its four goals."
Walker has served on the senate for seven years, including two terms as chair. During his tenure, he worked to improve senate-administration communication, led in the revision or creation of more than 60 University Policy Statements and oversaw the approval of three new programs.
"He works harder than anyone I know in the service of [the university, his college and his department]," said Emily Bonney, current Academic Senate chair. "His commitment has nothing to do with his ego but is grounded in his dedication to the students and thus to the institution that serves them."
Currently, in addition to serving as department chair, Walker is an at-large senator on the Academic Senate and a member of its Executive and Constitution committees. He co-chairs the Academic Master Plan Subcommittee and is a member of the Student Success Initiative Fee Advisory Council, Student Advisory Committee, Bio-Behavioral and Development Grant Committee and Supplemental Instruction Implementation Team.
"Where there are stories, no doubt apocryphal, that the only way he gets this much done is by never sleeping, I prefer the real explanation," Bonney added. "Sean is so committed to shared governance as the core of university life that he will do whatever it takes to achieve that end, and the selflessness of that dedication is obvious in his constant willingness to work at making things happen. He doesn't have to be right. That doesn't man he will abandon his principles, because he won't. But by listening to and engaging with all the people in the conversation, he can find a way forward."
"I've seen this man stand at this podium and advocate for the creation of the Outstanding Lecturer Award, which we are now in the second year of awarding. I've seen him stand in the classroom and in research labs where he teaches and mentor students in a way that led to his receiving the 2013 Carol Barnes Excellence in Teaching Award," said García.
"And I've even seen him stand on our commencement stage and courageously admit he gets his kicks from researching the private love lives of crickets," García added, as Walker's fellow senate members chuckled.
"Yes, he is funny and charismatic, but he's also brilliant and dedicated, and we are all so fortunate he continues to 'get involved' on behalf of the diverse students he serves."
Walker, a member of the campus community since 2003, holds a Ph.D. and master of science degree in zoology from Miami University, as well as a bachelor of science in chemistry from University of Texas at Tyler. He also was a postdoctoral fellow at the Univrsity of Lethbridge in Alberta, Canada.