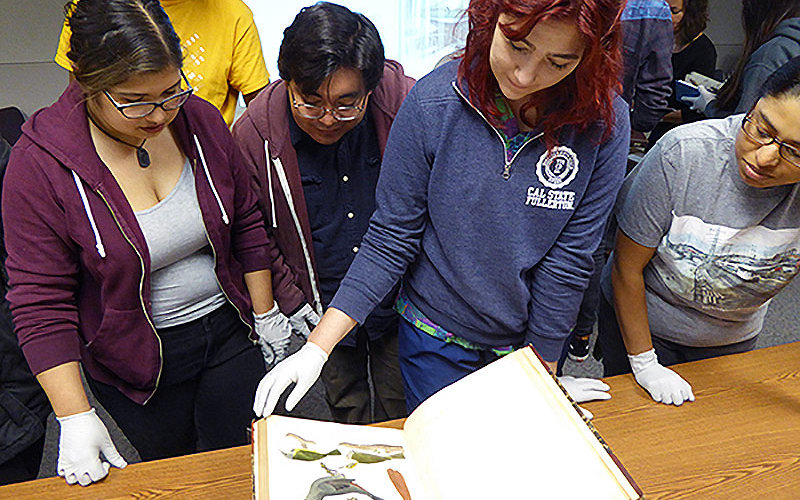 When biological science student Jasmin Perez began researching the great egret and snowy egret — known for their beautiful all-white feathers — she was astonished why the birds were at the brink of extinction in the late 1800s.
"They were known as society's fashionable birds," explained Perez, president of the Pre-Veterinary Club. "Women wore feathers on their hats. Each year, almost 200,000 egrets were killed to produce plumes for the fashion industry."
Perez's investigation into these dazzling large birds was part of an ornithology course — the scientific study of birds — taught this spring by William "Bill" J. Hoese, professor of biological science. As part of the class, students conducted research on birds based on Alexander Wilson's, "American Ornithology," a rare and valuable book published in the early 1800s. The book has detailed, hand-painted original illustrations of 268 bird species found in North America.
Biology alumna Nancy Goodhue-McWilliams, a retired high school teacher and the widow of Kenneth L. Goodhue-McWilliams, CSUF professor emeritus of biological science, donated the book to Cal State Fullerton. The book had belonged to her great-grandmother, Harriett Williams Meyers, who was active in the Audubon Society and also a founder of Tucker Wildlife Sanctuary. Goodhue-McWilliams also is a longtime University donor, including supporting a scholarship she and her late husband established for students pursuing health professions, as well as the Gravitational-Wave Physics and Astronomy Center.
The students studied 14 bird species, all found in Southern California, such as the northern mockingbird, song sparrow, American coot and black crowned night heron. Hoese and his students then collaborated with Patricia Prestinary, university archivist at the Pollak Library, and Meg Sandquist, director of Tucker Wildlife Sanctuary, to produce the exhibit "Feathered Friends of Fullerton: Exploring Local birds with CSUF Biology Students." The exhibit is open through Aug. 25 in the library's second-floor terrace.
This exhibit represents the culmination of the semesterlong collaborative project, where students learned about the history of ornithology in the context of this historic volume, said Hoese, who is a bird expert. For their investigations, students combed through historical information, modern primary literature, and spent hours observing birds in the field and on class field trips to conservation centers, Audubon sanctuaries and local parks.
Students also worked with Tucker staff to learn about exhibit design and conducted direct bird observations at the CSUF-owned sanctuary in Modjeska Canyon, noted Sandquist.
"This study was all-encompassing and allowed us to see how different literature compared to each other, as well as how research and information changed through the years," said Amanda Reyes, who with classmate Karen Walsh, studied the bald-headed turkey vulture that hiss or grunt since they lack a vocal organ and whose diet includes decaying animals.
"It also helped us apply the knowledge by seeing these birds in the wild. Through the exhibit, people can learn about the life history of birds, such as birds' annual migration, and then realize how complex their lives can be."