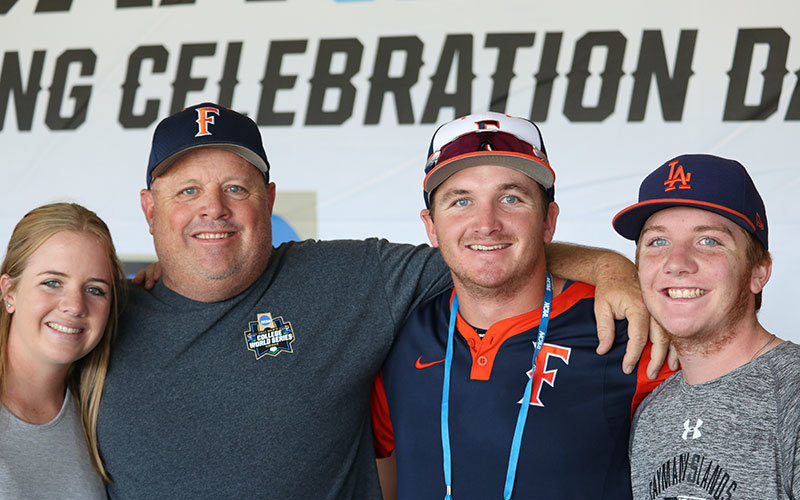 John Pavletich is taking it all in at the College Word Series.
It's a special time that he's sharing with his son, Jake Pavletich, an infielder with the team; his daughters, Jessica and Jordyn; and his younger son, Josh.
Like many of the players' dads, he will be celebrating Father's Day Sunday in Omaha.
"It's just surreal," Pavletich said. "I'm not quite sure it has hit me yet. "For me, it's just a fantastic gift that, indirectly, he [Jake] and his teammates have given me and all the other dads."
Every year college baseball teams celebrate Mother's Day by throwing a rose on the field, he said. In college baseball, the opportunity to celebrate the day with your son is reserved for only eight teams looking to raise the trophy.
"Where's the rose ceremony for the dads at Goodwin?" John recalls joking with the players at Fullerton. "I'll take this any day."
Mike Peitzmeier, whose son, Tyler, was a star reliever for the Titans and played in the 2015 College World Series, remembers taking his son to the series when he was 5 years old. The Nebraska native left that game wearing a Fullerton baseball cap.
"It's fantastic," he said. "It's every dad's dream come true to have their kid play on this stage, especially on Father's Day."
Cory Vanderhook, the Titans' director of baseball operations, said Father's Day at Omaha brings back lots of special memories.
As a player in 2011, he made the game-winning hit to lift the Titans over Georgia Tech. 
"I really recall having all my family as Titans here before my grandfather passed away," said Cory, who is Rick Vanderhook's nephew. "Fast forward 10 or 11 years, and I have my son and daughter here and my wife and my mom here as a grandparent; that's pretty special. So I have a lot of good memories from here on Father's Day."
Coach Rick Vanderhook has spent a few Father's Days in Omaha. He met his wife, April, here and visits often, even if his team isn't in the national title tournament. Vanderhook has two daughters, Noelle and Autumn, and a son, R.J.
But this year, the fact that Sunday will be Father's Day had slipped by him.
"I wasn't even aware until someone told me," Vanderhook said while watching his team take batting practice Friday at TD Ameritrade Park in Omaha.
Vanderhook has a simple message for the dads and players that have the opportunity to soak up the College World Series on Father's Day.
"It's pretty cool," the coach said.
Follow the Titans' College World Series experience on Facebook, Twitter, Storify and Instagram.