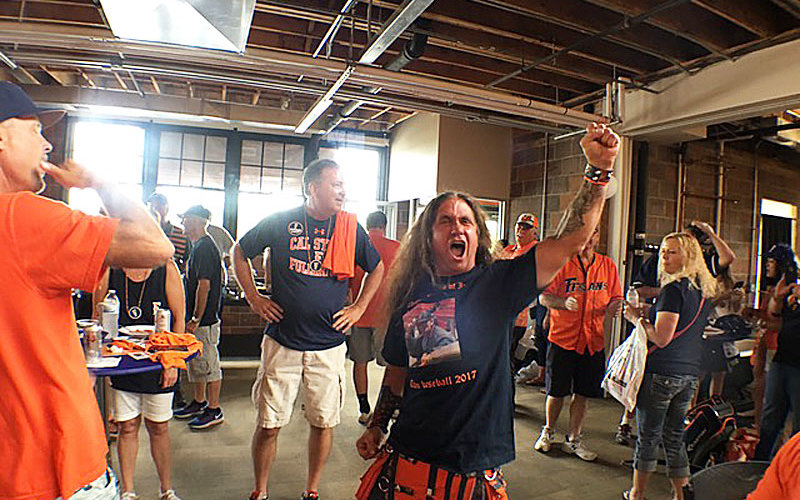 Super Fan Keith Franklin roared through the door at the Living Room Saturday like an Omaha thunderstorm.
"Let's Go Titans, Let's Go Titans …"Franklin's voice rose and filled the 3,500-square-foot event space just two blocks from the TD Ameritrade Park where the Titans were preparing to play No. 1 Oregon State.
Franklin ignited the more than 250 Titan fans who had gathered to support the team's pursuit of a fifth national championship.
"Let's bring it Titans," Franklin snarled and jeered and waved his fist to put emphasis that he meant business.
Titan Athletics and the CSUF Alumni Association hosted the pregame tailgate party at the retro, brick industrial space providing a taco buffet and a hosted bar for folks to graze on and get pumped up for the game.
Fans were decked out in Orange baseball jerseys and F-adorned caps.  They swapped stories recalling the four national championships Cal State Fullerton has won and they spoke about why Titan baseball means so much to them 
Beverly Powell, who graduated from Cal State Fullerton in 1989, earning degrees in criminal justice and economics, said that Titan baseball represents family and playing the game right.
 "It's just pure baseball," the Anaheim resident said.
For Cynthia Moran, a 1988 (communications) graduate and a Chino Hills City Council woman, Titan baseball brings back memories of her college years.
"I remember when Augie Garrido was there," Moran said. "I watched the teams practice and when I go back to the campus now, it's like nothing has changed.  I like seeing the younger generation now being pumped by our team. It's just fun."
Athletic Director Jim Donovan told those in the crowd they have a lot to be pumped up about.
He ticked off a list of accomplishments the athletics teams have had including that this is the first time in school history that there were six winning programs in the same year — men's and women's soccer, men's basketball, women's tennis, softball, and baseball.
"I'm very proud of Titan Baseball's 18th trip to Omaha," Donovan said. "It caps off a banner year for Titan Athletics."
Gayle O'Grady, another 1989 grad having earned her degree in biological sciences,  lives in Omaha and has seen some great College World Series live.
But she will never forget 2004 when the Titans captured their fourth national championship.
"I lost my voice that day," O'Grady said.
Super Fan Franklin knows about losing his voice to cheer on the Titans. He is a constant fixture over on the first base side bleachers at Goodwin Field chanting, cheering and cajoling the crowd to lift the team to victory.
He said early on this season he had a feeling about this team.
"It was one of those seasons that you just didn't want to end," Franklin said.
We agree, Super Fan. 
Follow the Titans' College World Series experience on Facebook, Twitter, Storify and Instagram.