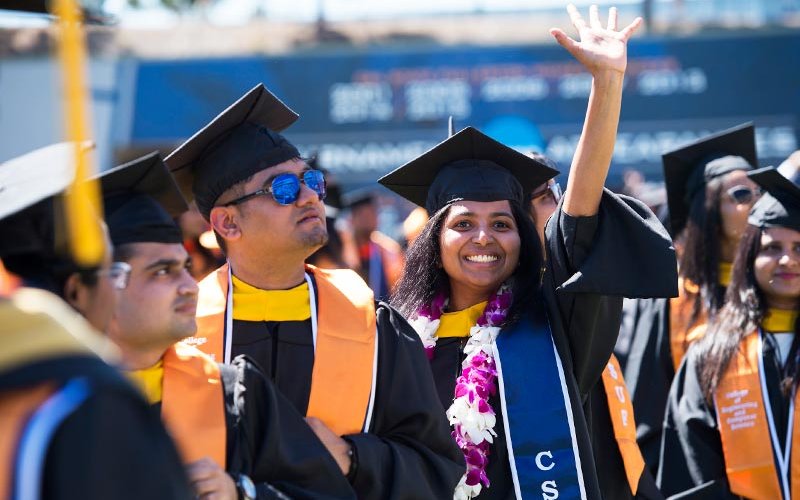 Cal State Fullerton is urging its faculty scholars to help students succeed with timely progression to graduation, and is funding these efforts as part of the University's Graduation Initiative 2025.
The Graduation Initiative 2025 is a statewide effort to increase graduation rates for those CSU students who are able to do so while eliminating opportunity and achievement gaps.
The CSUF Innovation grants were established earlier this year to fund faculty and staff members or campus units that propose a project that researches or implements a program, practice or strategy aimed at decreasing time to degree, increasing graduation rates and/or decreasing opportunity/achievement gaps. Of the 53 proposals submitted, 14 grants of up to $10,000 were awarded following review by a committee of students, faculty and administrators from Academic and Student Affairs.
The inaugural recipients of the Innovation awards are:
Natasha Anderson, lecturer in computer science — "Online Coding Cohort: Taking a Fast-Track to Your Graduation"
Marisol Cardenas, assessment coordinator, Mihaylo College of Business and Economics — "Peer Mentor Program in BUAD 300 (Professional and Career Development) Course"
Vincent Harris, Male Success Initiative director —  "Brother-2-Brother Summer Retreat and Brothers' Reach Higher Success Series"
Nicholas Huntington-Klein, assistant professor of economics, and Andrew Gill, professor of economics — "Encouraging CSUF Students to Take 15 Credits"
Zair Ibragimov, associate professor of mathematics, and Marina Borovikova, lecturer in mathematics — "Increasing Graduation Rates and Closing Opportunity Gaps in Advanced Calculus (Math 350)"
Volker Janssen, professor of history — "High-Impact Faculty Advisement in Humanities-Social Sciences"
Marie Johnson, dean of the College of Natural Sciences and Mathematics — "Pilot-Scale CNSM 101 First-Year Experience for Incoming First-Time Freshmen National Science and Mathematics Majors"
Patricia Literte, associate professor of sociology — "Titan Scholars Project"
Stacy L. Mallicoat, professor of criminal justice and chair of the Division of Politics, Administration and Justice, and Christine Gardiner, associate professor of criminal justice — "Peer Mentors for Criminal Justice Success Academy"
Colleen McDonough, assistant dean, College of Natural Sciences and Mathematics — "SuccessFULLY NSM"
Katherine Powers, director of graduate studies — "Joining Pipeline Stages: ProActive Advising for Success"
Irena Praitis, professor of English, Comparative Literature and Linguistics, Su Swarat, director of assessment and educational effectiveness, and Cathy Dionaldo, retention specialist, College of Humanities and Social Sciences — "I Can See it Now: Goal Setting and Student Success"
Christine D. Scher, professor of psychology — "Enhanced Introductory Psychology: A Needed Approach to Addressing the Achievement Gap of Underrepresented Students"
Eriko Self, chair and professor of psychology, and Lisa Weisman-Davlantes, lecturer in psychology — "Decreasing Repeatable Grades and Achievement Gap in PSYC 110 (Critical Thinking in Psychology)"