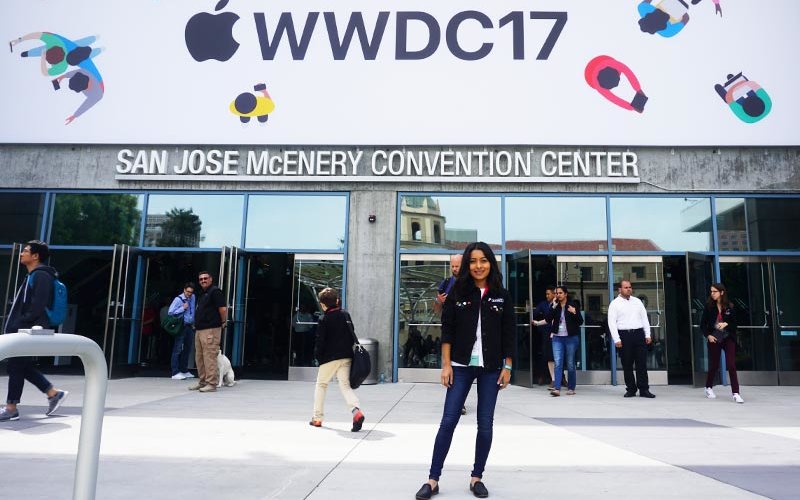 Titan techie and mobile app creator Noemi Quezada won a coveted scholarship from Apple to attend the tech giant's recent World Wide Developers Conference in San Jose. 
For Quezada, who in May earned her master's degree in software engineering, this was the second year in a row that she won a scholarship, which included a ticket (valued at $1,599) to attend the 2017 conference and free lodging. For the chance to earn a pass into the conference — a showcase for new Apple technologies — Apple held a technical challenge, open to students from around the world.
As part of her scholarship submission this year, she created a visually interactive application or "app" for the Apple MacBook using Apple's newest product called Swift Playgrounds, an educational app that helps users learn to code. She created "Turtle Rescue," where players use "Titan Turtle" to try and rescue sea turtle hatchlings from fish.
Quezada, who earned her bachelor's degree in computer science from CSUF in 2015, has worked for a Torrance web development company since an undergraduate. As a student, she won scholarships to attend the Tapia Conference on diversity in computing and the Grace Hopper Conference for women in computing. She also has received numerous awards for her work, including the Best iOS App at the AT&T iOT Hackathon for her mobile app "Blue Loteria," based on the traditional Mexican card game of chance she learned as a child. The game is one of three mobile apps she created — the others are Baby Moji and Hooper Talk — that are available at the Apple Store.
Why create Turtle Rescue?
I wanted to create a visually interactive game for Swift Playgrounds that incorporated educational material about sea turtles, as well as coding. Since taking a class on the Earth's history as an undergraduate, I've had an interest and love for turtles and thought it would be a good way to use the Swift Playgrounds format to educate others about one of our endangered species. I think people will enjoy learning about turtles and writing code — and playing a game that keeps them engaged.
What did it mean to you to get selected again?
The fact that this is my second year in a row to receive a conference scholarship gives me more confidence about my skills as a mobile app game developer. I joined the other scholarship recipients for an orientation about the conference, listened to exclusive talks from people who make apps, met and talked to Apple engineers, and witnessed the unveiling of Apple's new HomePod (Siri-voiced speaker) and Augmented Reality Kit to create AR apps.
What did you enjoy most?
Of the guest speakers, three were women, and Michelle Obama was one of them. They gave motivational talks about the importance of mobile app developers, as well as the future of technology. I also got to meet other student developers from around the world and learn more about their coding journey and the apps they built. I made connections with people from Italy, India, Brazil, Mongolia, Germany and Australia.
What was the biggest takeaway?
The conference helped me understand Apple technologies on a deeper level, as well as expanded my network and increased my visibility. It also showed me that developers play an important role in the tech world — and continually drive innovation and creativity.
What's next for you?
Looking back at all I have accomplished so far is surreal. My passion is in mobile app development and I'm excited about what the future will bring in the tech industry.