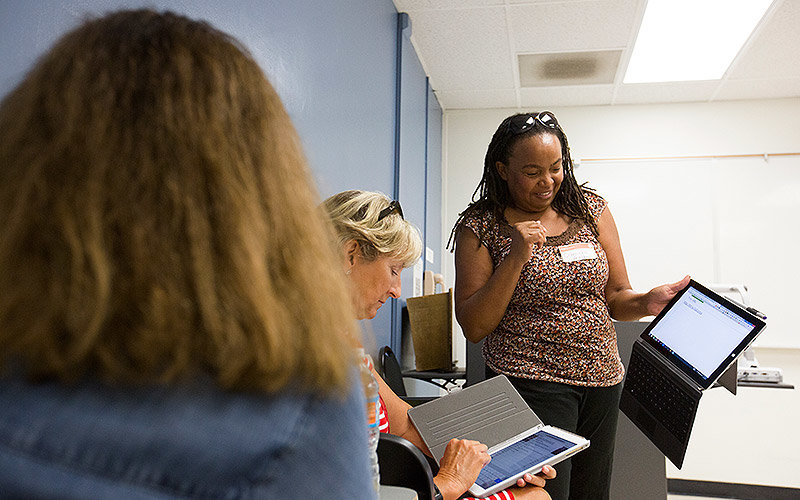 Teachers from across Orange County and the region are invited to participate in a free, teacher-led professional learning institute June 26-27 at Cal State Fullerton, held in collaboration with the Better Together: California Teachers Summit, set for next month.
The 8:30 a.m. to 4 p.m. program, offered by Teach Plus, features local teachers leading the institute, including CSUF alumna Tricia Hyun.
Hyun is an English teacher at Parks Junior High School in Fullerton and earned her doctorate in education-educational leadership at CSUF. She will co-teach "Change Your Universe With 21st-Century Tools: Google Classroom and Hyperdocs!" for teachers of all grades. This session explores how to leverage technology to meet the needs of individual students.
Susie Min, a mathematics teacher at Oxford Academy in Cypress, earned her National Board certification through CSUF's National Science Foundation grant program for math teachers. She will co-teach "Engaging All Students in Critical Thinking and Problem-Solving with Mathematics," for third- through 10th-grade teachers. Participants will learn about exploratory lessons and other tools that engage students in the Common Core Standards for Mathematical Practice.
Registration is required and may be made online. The institute will be held in College Park, Rooms 550 and 560, and seating is limited.
California Teachers Summit
The Teachers Summit on Friday, July 28, will bring teachers from across the state together for a day of learning led by teachers, for teachers. Cal State Fullerton is among sites hosting the free, daylong event, open to pre-K-12 teachers, teacher candidates, school administrators and other educators.
The California State University, New Teacher Center, and Association of Independent California Colleges and Universities are organizing the third annual Teachers Summit. To register for the Teachers Summit at the CSUF campus, visit online.
For more information, contact Bruce Rojas or 657-278-7523, or visit the California Teachers Summit website.
Media Contacts:
Mark Ellis, Secondary Education 
Hallie Yopp Slowik, Elementary and Bilingual Education 
Debra Cano Ramos, CSUF