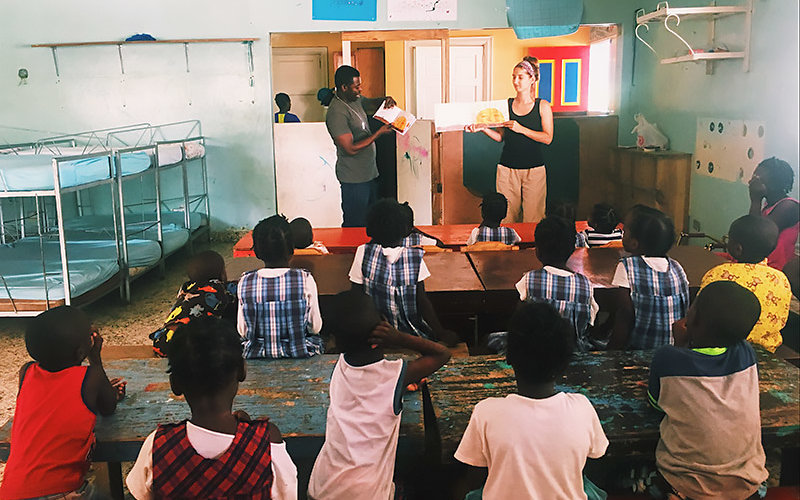 Inside sweltering open-air classrooms at Lekol Lesqwa School at the Maison des Enfants de Dieu Orphanage in Port-au-Prince, Haiti, six Cal State Fullerton education students and their professor spent a week teaching literacy skills to young children who speak either French or Creole.
With temperatures in the 90s, the students, with the help of interpreters, spent long days teaching reading, writing, art, music. They also played games like "Duck, Duck Goose" or basketball and soccer with the children. They lugged 21 donated suitcases filled with school and art supplies, music CDs, balls for physical education activities, diapers, sheets and medical products for the orphanage school, which cares for 77 children — newborn to age 16.
"This experience completely opened my eyes and changed my perspective about teaching," said Lindsey Hass, a preschool teacher who completed the early childhood special education credential program in May.
Melinda R. Pierson, chair and professor of special education, led Hass and her classmates on the educational pilgrimage this month to one of the world's poorest countries — $2 a day is the average wage.
"Haiti is a fourth-world country with major challenges, such as a recent massive cholera outbreak and Zika virus, lack of access to clean water and food, and extremely tough living conditions," said Pierson. "Our students were prepared to deal with these issues and also were exposed to difficult teaching scenarios. They became problem-solvers and educational leaders to turn every corner to help every child who needed extra help."
Students, who spent evenings at the nearby hotel developing daily lesson plans, worked with children with social and behavior issues, as well as limited language skills. After spending just one hour in the school's preschool classroom, Hass admitted she wasn't as equipped as she thought to teach children struggling with learning.
"As educators, we were able to collaborate, be resourceful, and test our prior experience and knowledge. Teaching in this situation gave me even more of a passion to help those communities and individuals who need a little extra help," said Hass, who began the master's in education-special education program this summer. In 2013, she earned her bachelor's degree in child and adolescent development from CSUF.
Pierson conducted teacher-training sessions on innovative teaching strategies, focusing on classroom management, student engagement and curriculum development, to the Haitian teachers, who have little to no teacher preparation. In the afternoons, they all led student tutoring and literacy groups.
"This a powerful experience for our students and an incredible opportunity for us to make a difference in Haiti's education system," said Pierson, who is continuing her work with the teachers through monthly online training and plans to take student teachers to Haiti at least twice a year.
Studying in another country helped the students reinforce their goal to become well- prepared teachers who are more aware of the world around them.
"The experience reminded us to continue to be open-minded and self-reflective. The kids at this orphanage are so bright and kind; they have so much potential, and all they need is someone who is on their side to support and guide them," added Hass, who was so moved by one 4-year-old boy, John, she is now sponsoring him.
"And that is my goal as an educator — to be that kind of person to as many students as I can."