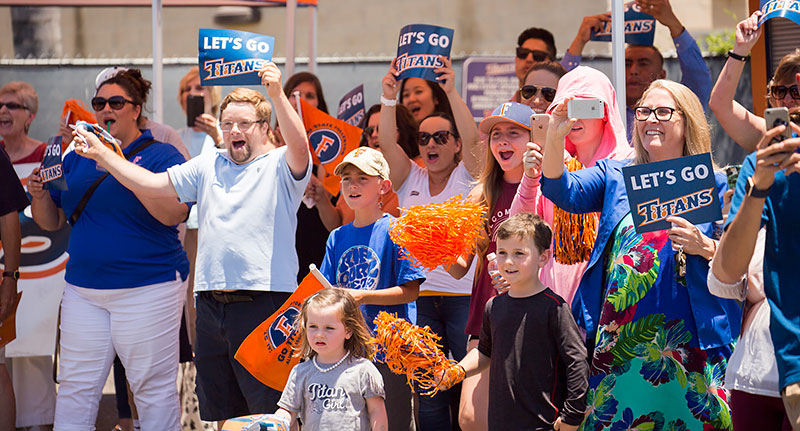 Loyal Titan fans of all ages and backgrounds stood in the sun prepared to cheer for their team June 20 as the Cal State Fullerton baseball players returned to campus after their 18th appearance at the College World Series.
As the buses pulled up, the cheering and flag waving began. Front and center were the team's smallest fans, ready with smiles and hands raised to high-five their favorite players. Right behind them were the older fans from both the campus and community who cheered and shook players' hands in appreciation of their efforts on the field.
The team finished its season with a 39-24 record. Junior outfielder Scott Hurst was named to the ABCA/Rawlings NCAA Division I All-America Second Team, as well as the All-Big West First Team and the ABCA NCAA Division I All-West Region First Team. He was also drafted in the third round of the Major League Baseball draft by the St. Louis Cardinals — one of seven Titans to be drafted.
The first to be drafted was junior pitching ace Connor Seabold, who was picked by the Philadelphia Phillies. Hurst was next, followed by junior left-handed pitcher John Gaven to the San Francisco Giants. On the third and final day of the first-year player draft, Chris Hudgins was picked by the Kansas City Royals, Dillon Persinger and Taylor Bryant by the Cleveland Indians and Timmy Richards drafted by the Washington Nationals. This is the third time in four years that seven or more Titans were taken in the MLB Draft and the second straight year.