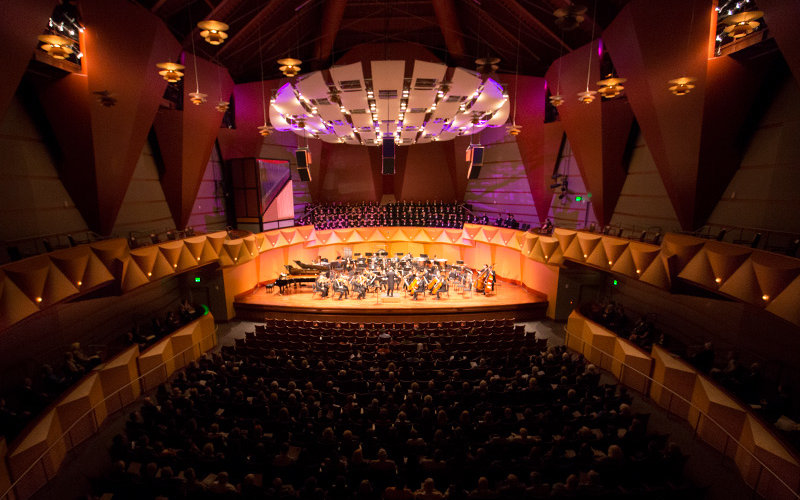 Graduates of Cal State Fullerton's School of Music are making their mark in the music world as conductors, composers and performers. Among these is Mina Choi '15 (M.M. music performance) is the third-place winner of the American Society of Music Arrangers and Composers' Bill Conti Big Band Arranging & Composing Competition, which showcases the most talented emerging composers and arrangers or large ensemble jazz music. Choi, a former student of Bill Cunliffe's, won for her work on "Paddle Through the Lake." Kim Richmond's Concert Jazz Orchestra presented a live sessions of the winning entries July 5 in Burbank.
Among Chorus America's recipients of its 2017 awards program is the nonprofit Choral Arts Initiative, led by tenor, conductor and educator Brandon Elliott '11 (B.A. music-music education), who received the Chorus America/ASCAP Award for Adventurous Programming. Elliott, Choral Arts Initiative's artistic director, recently released his inaugural album, "How to Go On: The Choral Works of Dale Trumbore." He is assistant professor of music and director of choral and vocal activities at Moorpark College. 
Rayvon Moore '17 (M.M. music performance) was awarded Pacific Chorale's 2017 Elliot and Kathleen Alexander Memorial Scholarship, which goes out annually to an outstanding choral conducting graduate student at Cal State Fullerton. Moore, a past recipient of CSUF's Graduate Equity Fellowship and of the Mu Phi Epsilon Foundation's Foncannon Choral Conducting Grant for his academic and choral conducting excellence, is the director of music at Northridge United Methodist Church.