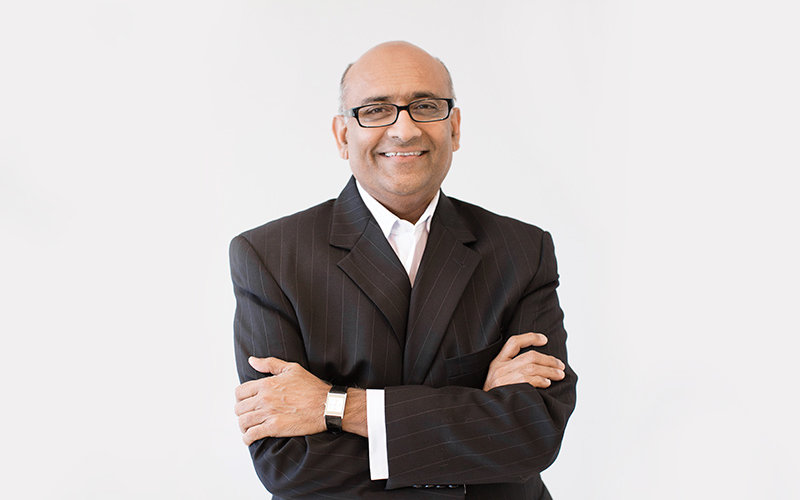 It's been a successful journey for Ash Patel, who began his banking career staffing a teller window and discovered his professional calling – a vocational match so strong that decades later he founded his own successful bank. He was fortunate, he says, to build a career that "helps people achieve their dreams."
As he grew up in Zambia, Africa, Ash Patel didn't know he was going to be a banker, let alone the head of his own bank.
"It was a surprise that I made my career in banking as that was not the original plan," says Patel, who pursued a graduate degree in finance at Loughborough University in England. In the mid-1980s, he moved to California and got a job as a teller at Bank of America. "That's when I began my journey in understanding how a bank works," he adds.
The banking industry turned out to be a very good match for his talents and values. His ambition to understand his unexpected vocation led him to an education at both the California Banking School in San Diego and the Pacific Coast Banking School in Seattle. He managed several branches for Bank of America and moved to senior management positions with California State Bank and Bank of Orange County.
In 2001, he raised $7 million to start Premier Commercial Bank (PCB), which he led for 10 years as founding president and chief operating officer before retiring. PCB grew into one of the five largest banks headquartered in Orange County.
"I retired for one year, and during that time, I started The Siksha Foundation," says Patel. The nonprofit foundation provides educational and other forms of aid to impoverished children in developing countries. "Many families do not have access to the essentials, including clean water, clothing, food or education," he says. "We are able to foster all levels of education by supporting schools with infrastructure projects through the foundation."
Patel also serves on the Mihaylo College Dean's Advisory Board, and his son, Neal Patel '16 (B.A. business administration – finance and B.A. business administration – accounting), and niece and nephew, Hetal Patel '01 (B.A. business administration – marketing) and Akash Patel '04 (B.A. business administration – finance), attended Mihaylo College.
In 2013, Ash Patel became president and CEO of Commercial Bank of California, and in the spring of 2016, the bank merged with National Bank of California, where he was chairman of the board. Combined, the banks have six branches in Orange and Los Angeles counties and assets of more than $750 million. He leads an initiative among his employees called "PJ2B" – a purposeful journey to a billion – in the quest to become a privately held billion-dollar bank.
With this type of goal-setting in mind, there are many lessons to be learned in the journey from bank teller to bank president, and Patel shares his perspective on leadership with Mihaylo Magazine:
In view of the past economic turbulence nationally, what is fundamental in leading a successful banking operation?
Past economic turbulence has taught us to remain prudent in our lending practices, especially in commercial real estate lending. Small community banks generally have high concentrations of commercial real estate loans due to a lack of commercial and industrial lending experience. Having safe loan-to-value ratios, strong underwriting guidelines and effective concentration management are fundamental to running a safe and sound bank in turbulent economic times.
Why do you find banking an exciting field to work in?
There is never a dull moment. The goal is to provide financing – business support, home loans or entrepreneurial funds – so that people can achieve their dreams. Capital is the bloodline for economic growth, which fuels individual pursuits and in turn, contributes to the health of the economy.
What surprises you most about the banking industry?
Contrary to popular belief, it's a simple process: The bank takes the deposit from the customer. The customer borrows from the bank, and then the bank relies on repayment and equity from the depositor. It's simple, really – deposit intake and loan production purely based on the services provided by our staff.
How do you create and support the culture that exists within your bank?
By promoting healthy risk-taking and upward mobility, I create the opportunity for employees to grow within the company. This, of course, attracts great people with passion, initiative and a focused mindset. I have an open-door policy. I place a high value on collaboration and human capital; the well-being of our staff is at the forefront of our corporate culture. This sense of community and respect carries over into the service we provide our customers. Respect, humbleness and tolerance all play a strategic role in the development of a great company culture.
What qualities among your employees are most important to you?
I appreciate leadership, passion and a strong work ethic, of course. But most importantly, our executives and managers must genuinely care for the employees and value each person's time away from home. A great leader both notices and supports those who work hard and strive for the organization. And, we are willing to teach new employees, even if they do not have previous banking experience. If they are prepared to learn and are committed, we will teach them. We nurture our employees at all levels – that is our culture.