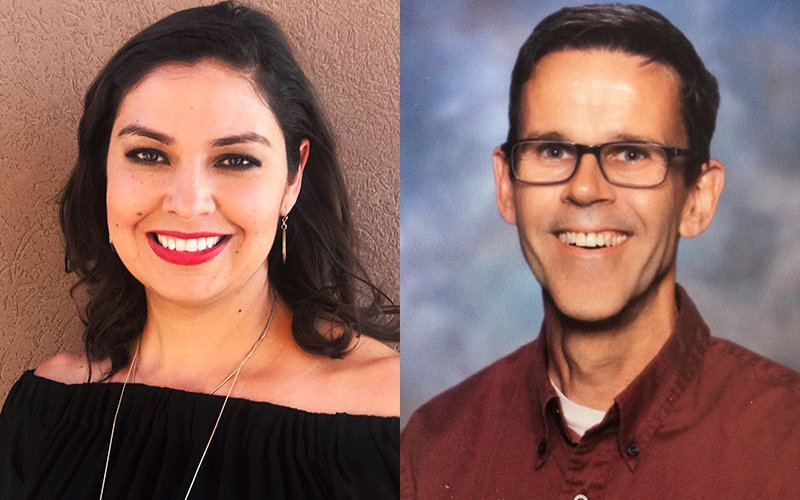 Cal State Fullerton is a host site for the third annual Better Together: California Teachers Summit Friday, July 28, featuring Jill Biden as the keynote speaker  — who will give her address from the event's headquarters near San Francisco — and local teachers who will deliver TED-style EdTalks.
The free day of learning, held from 8 a.m.-2:30 p.m. in Titan Gymnasium, is open to pre-K-12 teachers, teacher candidates, school administrators and other educators. This year's theme is "Now More Than Ever," which reflects the importance of bringing teachers together to listen and learn from one another.
Biden will speak at 8:15 a.m. from Saint Mary's College of California, near San Francisco. Her remarks will be simulcast to 34 other sites across the state, including to CSUF and 20 other California State University (CSU) campuses. Biden, wife of former Vice President Joe Biden, is a lifelong educator who has taught at community colleges, a public high school and a psychiatric hospital for adolescents during her 30-year teaching career.
"Dr. Biden is an inspiration for all California teachers," said Leslee Milch of Carl E. Gilbert Elementary School in the Buena Park School District. "We can't wait to hear her insights from the classroom and her vision to better support all of our students."
CSUF's morning program also will feature two EdTalks by CSUF alumni, as well as EdCamp discussions on teacher-selected topics. The EdTalk speakers are:
9 a.m. — Mayra Orozco is a fourth-grade dual-language immersion (Spanish/English) teacher at George Washington Elementary School in the Corona-Norco Unified School District. She earned her bachelor's degree in child and adolescent development in 2004, and a year later, completed the multiple-subject credential program with bilingual authorization — both at CSUF.
Orozco will present "Engaging Students Through Culturally Responsive Teaching," focusing on why cultural identity or "identidad" is important to incorporate in the curriculum, as well as the role of parents as contributing members of classroom instruction.
"I hope teachers will gain a deeper appreciation for respecting students' culture and identity — and use it to create meaningful lessons," Orozco said.
For the past three years, Orozco has participated as a teacher fellow for the "Transforming Academics and Cultural Identidad through Biliteracy" grant project at CSUF, funded by the National Science Foundation. Orozco's work is included in the recently published book "Reimagining the Mathematics Classroom," co-authored by Mark Ellis, CSUF professor of secondary education.
Noon — Alastair Inman is a science teacher at Cypress High School in the Anaheim Union High School District. The 2009 California Teacher of the Year completed the single-subject credential program in biological science at CSUF in 2008. Inman, who earned a doctorate in zoology from Oxford University in England and is a former college professor, began teaching science in 2001 in the Anaheim Union High School District.
He will present "Teaching and Learning in the Digital Age: Helping Our Students Shift From Knowing to Doing," which focuses on examining ways in which the classroom has changed for both teachers and their students.
"The education world is seeing a lot of change," Inman said. "Today's students live in a digital age, and the new standards being implemented across disciplines reflect this change. Teachers are asking students to use information and resources that are now just 'one click away' to analyze, evaluate and create in ways simply not possible in the past."
1:15-2:30 p.m. — The afternoon program features teacher-led interactive sessions and opportunities for networking, sharing ideas and resources with fellow teachers.
Local educators will address a range of topics, such as: strategies to support students' engagement in and enthusiasm for literacy, math and science; arts-rich classrooms; promoting multilingualism and multiculturalism; using technology to support deep learning; teacher leadership and professional growth; early childhood teaching and learning; and inclusive and welcoming schools. For details, visit here.
Teachers can also receive continuing-education credits by attending the event. A free continental breakfast will be served and lunch will be available for purchase. Registration is required to attend the CSUF campus event and can be made by visiting online. Parking is free.
Claire Cavallaro, dean emeritus of CSUF's College of Education and professor of special education, is leading the CSU effort, with Bruce Rojas, CSU coordinator. Ellis and Hallie Yopp Slowik, professor of elementary and bilingual education, are overseeing CSUF's program, as well as supporting the statewide effort.
The California State University, Association of Independent California Colleges and Universities and New Teacher Center are organizing the annual Teachers Summit. For more information, visit the website and follow @CATeacherSummit on Facebook and Twitter for updates.
Media Contact: