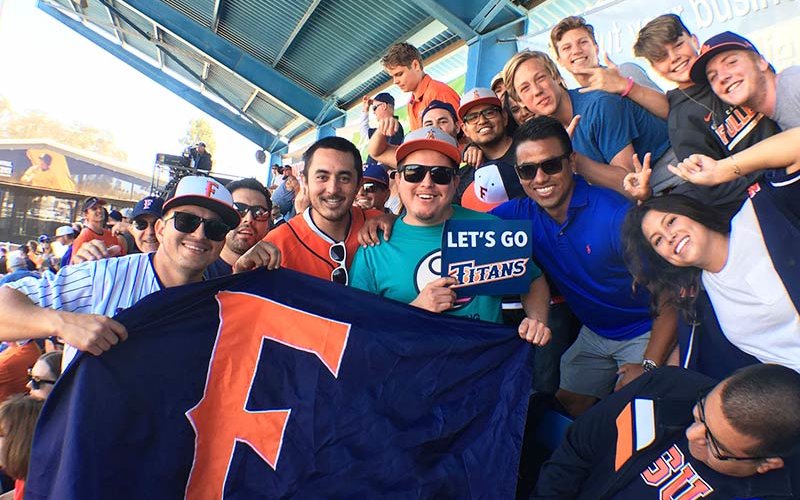 Cal State Fullerton was named the top campus in the large school division in the national Forbes' 2017 #MyTopCollege social media competition. The campus also achieved the most social posts, finishing No. 1 overall in the nation.
This is the fourth year the University has won the competition. In 2014, the competition's inaugural year, CSUF was the top university in the nation. Last year, and in 2015, CSUF won the large-school division. 
"Once again, California State University, Fullerton, snagged the top title for large schools. Finishing strong in the last leg of the competition with nearly 100 posts in the final week of the competition alone, CSUF dominated with posts about friendship and fun on campus," Forbes wrote in its story about the 2017 winners.
"In pushing CSUF to the top spot once again, Titans' pride in this remarkable University is clear," said Jeffrey D. Cook, chief communications officer. "The level of excitement about our institution — and wanting to tell the world all about it — is testament to the amazing experiences of our students, alumni and friends, faculty and staff. We say 'Titans Reach Higher,' and this competition is one way we walk the talk."
The CSU had a strong showing in this year's competition. Fresno State finished second overall, and CSU Northridge placed fifth. Fresno and Fullerton were in a tight battle throughout the #MyTopCollege campaign.
The annual social media competition featured more than 1,300 unique social media postings highlighting school spirit and passion from students, alumni, faculty and staff from universities nationwide. 
The successful Titan effort benefited from an influx of postings on CSUF social media sites, as well as the enthusiastic participation of the University's college and department-based social media coordinators. During the campaign, more that 200 postings were curated into a Storify blog to help share the messages of Titan Pride.
Posts ranged from campus beauty shots to heartfelt thanks from alums and students about the quality of education they received at Cal State Fullerton, to the many friendships they made during their Titan careers. A few highlights from the six-week competition:
#MyTopCollege is @CSUF: student-driven research projects, using our campus and local community as a #livinglab#highimpactpractices.
@csuf is #MyTopCollege because it helped educate & prepare me for my professional career. "Look at where you are. Look at where you started."
@csuf is #myTopCollege because it celebrates diversity and pushes Titans of all backgrounds to reach higher.
I'll be the first in my family to earn a bachelor's degree. @csufgave me a chance to work hard for my future. It's #myTopCollege.
Without @csuf and its amazing roster of classes and professors, I wouldn't have landed my dream job right out of college! #mytopcollege