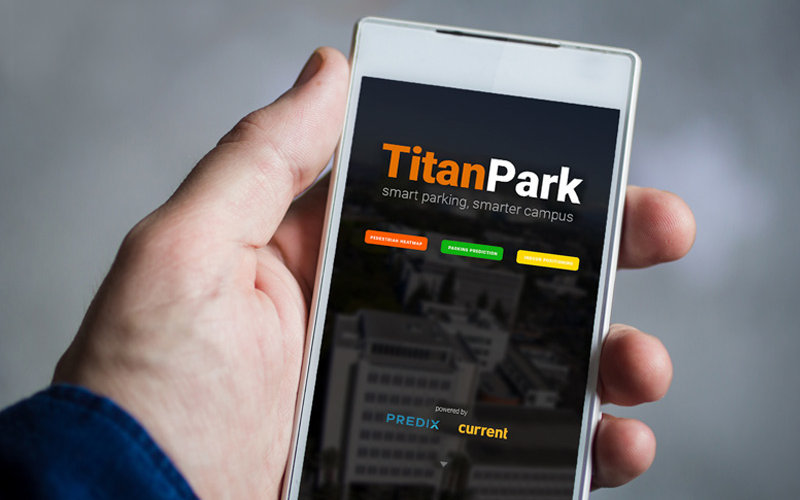 With campus parking during the school year at times a challenge, a team of Cal State Fullerton computer science students has come up with a real-time solution to make finding a spot a lot easier.
The team has created a sustainable app, "TitanPark," for the GE/California State University (CSU) Innovation Design Challenge, where student teams from CSUF and six other CSU campuses created inventive, state-of-the-art projects for the Industrial Internet, built on GE's Predix software platform. CSUF's College of Engineering and Computer Science and GE Digital partnered for a second year to offer the competition, set for this Friday, July 14, at GE Digital's headquarters in San Ramon.  
Students are vying for $25,000 in prize money, with $8,000 to be awarded to the winning team. In the inaugural competition last spring, the Titan team won the first-place prize. GE Digital also has awarded CSUF $450,000 in funding over three years to support the student design challenge.
For the last several months, students have been working on their projects, receiving online training on GE's Predix platform. During their project development, GE engineers also visited students and gave them feedback on their projects.
For the CSUF team, their app project provides real-time information to drivers coming to campus, including spaces available in the various parking lots and parking structures in real-time, said Anand Panangadan, assistant professor of computer science and coordinator of the GE-CSU event.
"Data from sensors at the parking lots will be automatically and continuously analyzed to estimate how busy a specific parking lot is, and this information also will be available on a webpage," he said.
The app also collects data to help when parking facilities are closed or being renovated. The students' project complements information that the University's Parking and Transportation Services already provides to drivers, Panangadan said.
Team members, all computer science majors, are: Jacob Biloki, Aryan Familrouhini, Zhangying (Mandy) He, Ruth Obidah, Shelley Pham (a member of last year's team) and Austin Suarez. Computer science faculty members Shawn Wang and Mikhail Gofman are the team's advisers. The other teams are from the following CSU campuses: Northridge, San Francisco, San Jose, Sacramento, San Diego and San Luis Obispo.
The students can use the experience from the design challenge to take the Predix Certified Developer exam, a desirable credential for anyone entering the internet-of-things workplace, Panangadan said. Students also can interview for internships at GE Digital next summer.
"The challenge has students developing projects in an important emerging area, in which it is expected that our everyday environment will have sensors spread around them. Current estimates are that there will be 50 billion connected devices by 2020," Panangadan noted.
"Computer scientists entering this area will be expected to know the tools needed to manage all these sensors, collect and store data, analyze the data for interesting patterns, and extract useful information from this data deluge and present it in eye-catching ways."
GE Digital's chief executive officer Bill Ruh, senior vice president and chief digital officer, is a CSUF alumnus and was instrumental in creating this opportunity for students. Ruh '83, '84 (B.S., M.S. computer science) also was a Class of 2017 commencement speaker and a recipient of the 2017 Distinguished Alumnus Award.