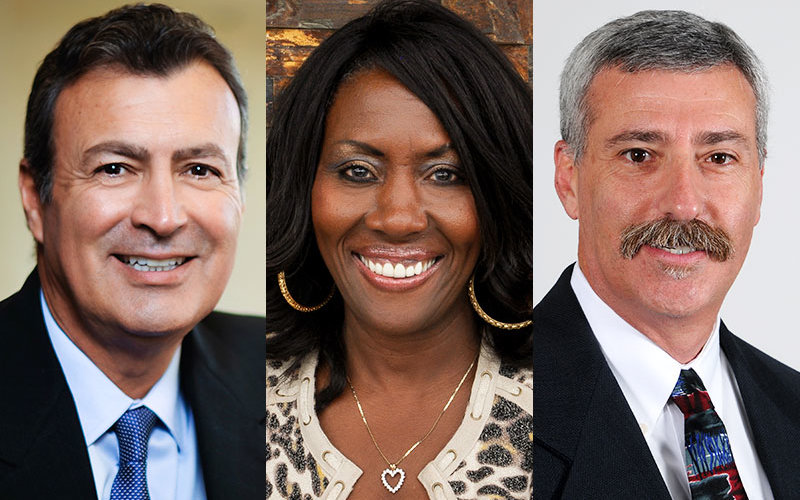 Three business leaders have been named to Cal State Fullerton's Philanthropic Board of Governors, the nonprofit auxiliary organization established to build and strengthen relations with the community and encourage advocacy, investment in and support of the University.  
The new members are:
Joe Cervantes, executive vice president of operations, R.D. Olson Construction
Martha Daniel, founder and president/CEO, IMRI Technology and Engineering Solutions
Gary Green, executive vice president and manager, California Bank and Trust
Also joining the board as the student representative appointed by President Mildred García,  is senior business administration major Laila Dadabhoy, president and CEO of Associated Students, Inc.
Continuing as chair of the board is Jeffrey S. Van Harte '80 (B.A. business administration-finance), chairman and chief investment officer of Jackson Square Partners LLC.
Joining Van Harte on the organization's 2017-18 Executive Board and vice chairs are:
Kerri Ruppert Schiller '82 (B.A. business administration-accounting), senior vice president and chief financial officer, Children's Hospital of Orange County (CHOC), as chair-elect and vice chair, nominations and governance committee
Paul Carter '92 (B.A. political science), partner, Bergkvist, Bergkvist & Carter LLP, as member-at-large
Gina Fales '94 (B.A. business administration-accounting), managing director, Janus Capital Institutional, as vice chair, finance and investment committee
David Doran '75 (B.A. business administration-accounting, managing partner, White Nelson Diehl Evans LLP, as vice chair, audit committee
Ernie Schroeder '67 (B.A. business administration), president and CEO, Schroeder Management Company Inc., as vice chair, Titan Ambassadors/resource development
Dick Ackerman, retired state senator and principal, Ackerman Consulting, as vice chair, advocacy
Mike Weisman '76 (B.A. communications), partner and CEO, Amusement Park, as vice chair, Titan Pride (marketing and PR)