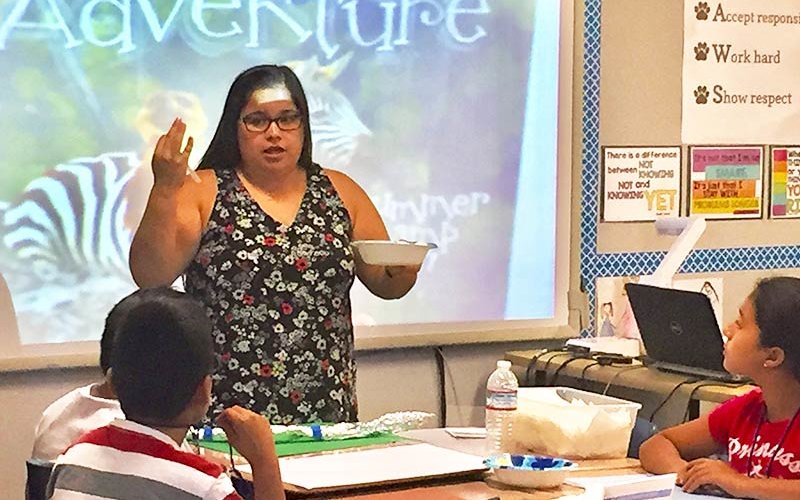 Future teacher Breána Victoria is working alongside experienced educators at Melrose Elementary School this summer to help young students improve their academic English skills using science, art, music, technology — and animals.
"Together we create a classroom environment that is student centered, with hands-on, minds-on experiences, and teach and develop English skills that students can utilize throughout their schooling," said Victoria, who is co-teaching fourth-graders.
Victoria is among 15 recent Cal State Fullerton graduates and teacher candidates who are teaching youngsters in the English-Language Development STEAM Camp: "Animal Kingdom Adventure." The camp is presented by CSUF's SchoolsFirst Federal Credit Union Center for Creativity and Critical Thinking, in collaboration with Placentia-Yorba Linda Unified School District. 
More than 400 elementary school children at three schools with predominant Hispanic student populations are participating in the summer camp, with alumni and teacher candidates partnering with district teachers in the classroom. The program also is being offered at Rio Vista Elementary School in Anaheim and Topaz Elementary School in Fullerton.
In teams, campers are preparing final research projects — documentaries that explore the wonders of their group's chosen animals — to be presented, along with artwork and a performance of "Circle of Life," at the July 27 family celebration, which culminates the three-week program.
"This experience has allowed me to constantly reflect on my teaching strategies to improve them so that I am best serving students," said Victoria, who recently earned her master's degree in education and completed the multiple subject credential program.
"My mentor at Melrose Elementary encourages me to challenge myself and think outside of the box to come up with ideas and activities to build on students' strengths and allow them to take ownership of their learning."