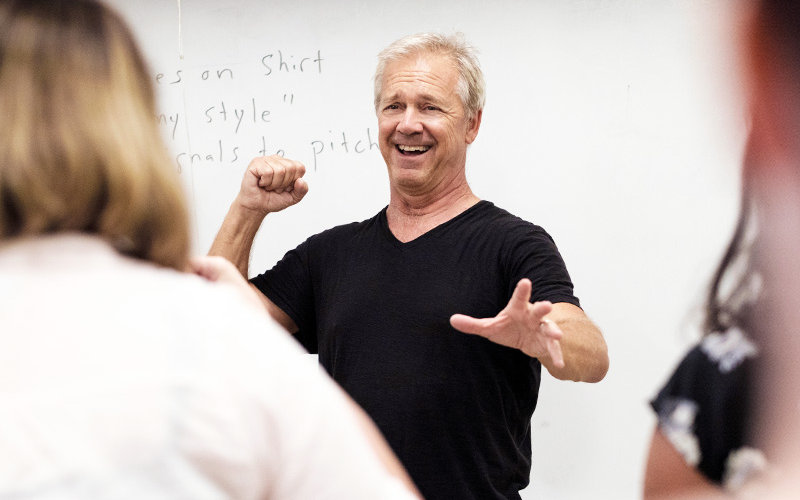 Wearing a baseball cap, actor and teaching artist David Prather performed the 1888 baseball poem "Casey at the Bat" before a group of Orange County teachers.
Prather then led the teachers in a series of exercises, such as using pantomime, and sharing with them how they can use such acting techniques when teaching poetry, language and vocabulary.
By using simple theatrical techniques, without props and costumes, teachers can hit a home run in the classroom as a way to liven up a lesson — and also get students excited about learning, noted Prather of Segerstrom Center for the Arts.
Incorporating the arts — including visual arts, music and theater — and technology in core subject areas such as English, math, science and social studies was the focus a recent two-day seminar for K-12 teachers, presented by the College of Education's Department of Secondary Education and sponsored by Cal State Fullerton's SchoolsFirst Federal Credit Union Center for Creativity and Critical Thinking.
"This might entail having students collaborate to discuss content through art, create art to support content learning or write about art to express ideas," said Maria Grant, professor of secondary education, who has led the seminar for the past decade with Marilyn Leuer, lecturer in secondary education. This was the first time that an art-focus was added to the seminar. "We're giving teachers tools that augment instruction, not replace it."
Kristine Quinn, lecturer in elementary and bilingual education, added that with students today "digitally immersed," it's important for teachers to connect the world students live in.
"It's about engaging students in active instructional practices and allowing that creative process as a tool for learning," Quinn added.
Teachers were introduced to various tools and strategies, taught by guest presenters and experts, including Prather. These included the importance of how color and drawing can enhance a lesson, creating puppets to help students discuss points of view and integrating music with percussion instruments like shakers and hand-held drums can result in content coming alive. Teachers also learned about fun and engaging technology sites to create videos, blogs and podcasts, and build mini robots to pique students' interest in science.
"I believe that all teachers, no matter what grade or subject they teach, are literacy teachers. I am always looking for fresh, new ideas to make learning engaging and relevant," said seminar attendee Jennifer Eckert-Toler, a San Clemente High School history and psychology teacher.
The CSUF alumna, who earned her bachelor's degree in history and completed the single subject credential program in social science and currently is enrolled in the master's program in history, is already redesigning lesson plans for the coming school year from ideas she learned at the seminar.
"I believe that there is room for creativity, rigor and critical thinking in our classrooms, and that we can help our students with digital literacy in the process."