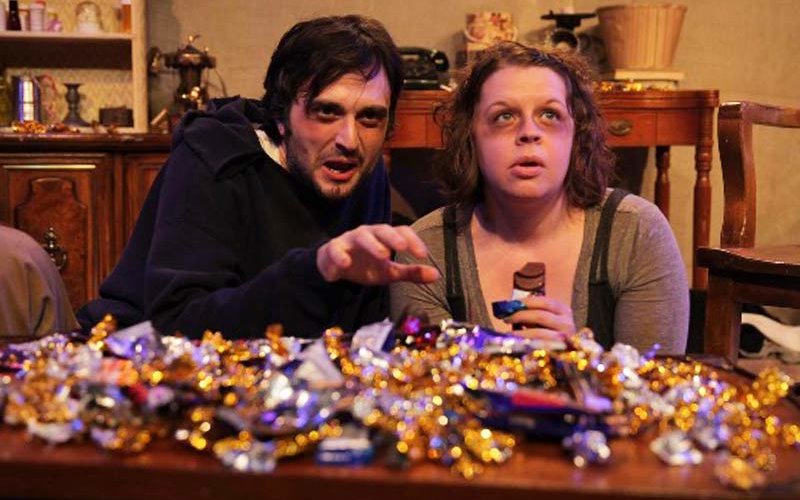 Armed with Cal State Fullerton degrees and borrowing some heart from the French word "coeur," a group of theatre alumni banded together in 2009 to found the Los Angeles-based "pay what you want" Coeurage Theatre Company.
Company membership has since expanded to 27, including 11 CSUF graduates. With an average of four productions per season, benefit performances and a staged reading series, the collaboration seeks to enhance their theater project using lessons and expectations instilled at Cal State Fullerton.
How did the Coeurage Theatre Company come about?
Jeremy Lelliott '09 (M.F.A. theatre arts-acting), artistic director: A lot of us trained together at Cal State Fullerton. We'd formed a little collective by our last semester, and a bunch of us connected in L.A. after graduating. It happened very naturally, but it was also daunting. We had this little-engine-that-could attitude, and we basically declared ourselves a really good L.A. theatre company and then tried to back it up.
Why "pay what you want?" How does that work?
Joe Calarco '09 (M.F.A. theatre arts-acting), associate artistic director: The system works for a few reasons. The price tends to adjust depending on the disposable income of our audience. Once we received $1,000 for a ticket. In another instance, we received a fig. The average, however, is competitive with the rest of the Los Angeles intimate theatre scene.
In addition, because we're forced to keep our budgets small in comparison to many groups, we receive a certain degree of artistic freedom we wouldn't have it we had large debts to fulfill. Lastly, being economically responsible in our aesthetic choices forces our artists to only put on stage what is necessary to tell the story effectively.
Thinking back on your time at Cal State Fullerton, what were some of the lessons and influences that have proved useful after graduation?
Nicole Monet '08 (B.A. theatre arts), executive director: My time at Fullerton was really life-changing because I met this group of people! Little did I know that I was going to start a business with my classmates at that time.
What was great about starting Coeurage with fellow CSUF alums was that we all spoke the same language. We all had an extreme passion for the classics — Chekhov, Williams, Shakespeare, Ibsen — and we took what we learned from working with these great playwrights to not only produce their works but to drive inspiration from them to produce more contemporary plays as well.
Fullerton made us a family — a family that's still strong today. One of the things we hear a lot is how strong our acting ensemble is, and for the majority of us, at least when we started, we came from Svetlana Efremova-Reed, Eve Himmelheber, Maria Cominis, David Nevell, Evelyn Case, John Short (Oh god, who am I forgetting….).
Lelliott: There is an expectation of success at CSUF's theatre department, a higher standard for the final product than you find elsewhere. We believe, of course, that you achieve those results through a pure process, but not succeeding isn't an option. That definitely stayed with us, and it's made our work very consistent.
Calarco: The DNA of our aesthetic can be traced directly back to our classes. What made the program so special was the incredible work ethic of the faculty, and their demands for excellence. Through teachers like Svetlana and David Nevell, for example, I was instilled with a deep reverence and respect for the art form. It was probably the most challenging three years of my life.
Once I described Svet's classes as "diamonds wrapped in razor wire." I certainly got some cuts, but the benefits were priceless. Coeurage would not exist without her, David, and the rest of the CSUF family. I wish I could talk about all of them.
What is next for Coeurage?
Lelliott: Coeurage will continue to create thoughtful, boundary-pushing work, starting with our upcoming productions of Lauren Gunderson's "Emilie: La Marquise di Châtelet Defends Her Life Tonight" and Mary Zimmerman's "The Secret in the Wings."
We're also increasing our focus on organizational growth. We have a lot of big goals, like finding a venue to call home, and performing in more medium-sized houses. We're laying down the foundation for a long and wonderful future.