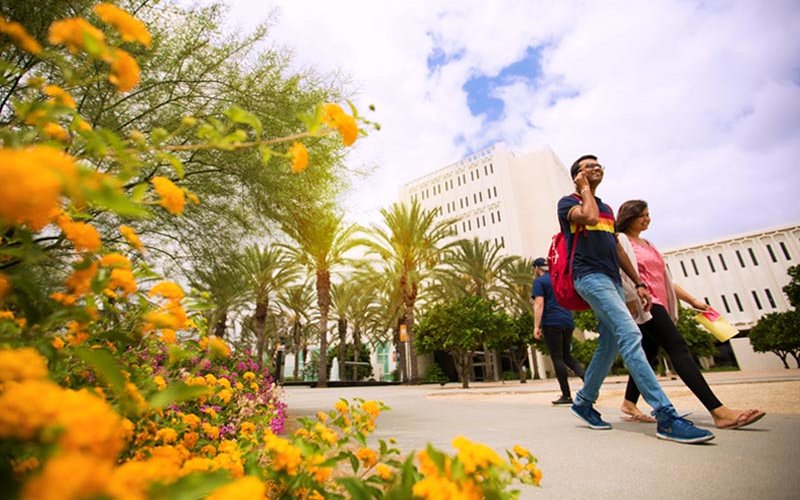 As an expected 40,000-plus students begin fall classes at Cal State Fullerton, they will be greeted by new departments, department name changes and 43 new tenure-track faculty members. 
The fall semester officially kicked off with President Mildred García's annual convocation address to the campus community Monday, Aug. 14. In addition to updates on University achievements, advances and changes, García introduced the yearlong 60th Anniversary Celebration.
As part of convocation, García welcomed a group of founding Titans: students, faculty and staff members who worked and studies on campus during the 1959 to 1969 years. A special Founding Titans luncheon was held afterwards. 
Classes begin Saturday, Aug. 19, but the bulk of students will begin attending classes Monday, Aug. 21, and Tuesday, Aug. 22.
This fall marks the beginning of two new departments: Communicative Disorders, which used to be part of Human Communication Studies and Women and Gender Studies, which used to be a program, rather than a department.
Two departments have new names: Comparative Religion is now Religious Studies and Geography has become Geography and the Environment.
In addition, the online business program, M.S. in information technology, has new concentrations: information technology management and data science.
Parking continues to come up with ways for students, faculty and staff to be able to get to campus with fewer parking hassles. In addition to assisted parking, shuttle services from the Brea Mall and Evangelical Free Church in Fullerton begin Monday, Aug. 21. Details are available at moreparking.fullerton.edu.
Key dates for the beginning of the semester:
Aug. 21
Great American Solar Eclipse viewing party. 9 a.m.-noon on the lawn in front of Dan Black Hall.
Aug. 30-31
Discoverfest, a showcase of University clubs and organizations where students have the chance to learn about engagement opportunities. 11 a.m.-2 p.m. in front of the Humanities-Social Sciences Building and along the walkway between the Pollak Library and the Titan Student Union
Sept. 10
Opening of "Before They Were Heroes" exhibit at the Fullerton Arboretum'sOC Agricultural and Nikkei Heritage Museum 
Sept. 23
60th Anniversary Concert Under the Stars. Intramural Field north of Titan Gym
Sept. 29
Opening night for "Frankenstein: Based on the Novel by Mary Shelley," the first production of the 2017-18 theatre and dance season