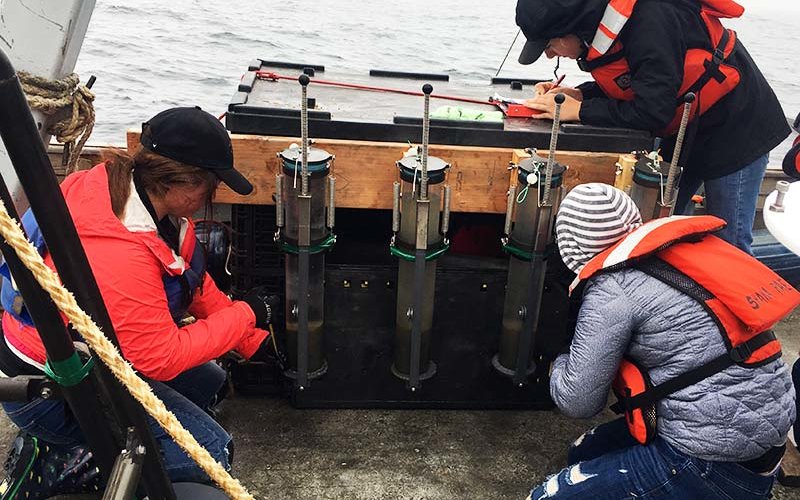 Despite some rough weather at sea and a pod of humpback whales feeding almost directly on top of their research location off Monterey Bay, Cal State Fullerton students and their geology professor collected tubes of sediment this summer to investigate changes in sediment delivery from land to the ocean over the past 150 years.
The faculty-student researchers are investigating whether the combination of human activities on land and climate changes are resulting in changes in sediment deposits in the ocean.
"This research will provide a greater understanding of how the Earth is changing as the result of direct human activities, such as agriculture, development and dam construction, as well as climate change from indirect human activities," said Joe Carlin, assistant professor of geological sciences.
"By comparing the recent geologic record to the record over the past thousands of years, we can get a better understanding of the impacts humans have had on this environment. From this work we hope to be able to contribute to predictions of what may change in the future so that we may be better prepared, or able to make more informed decisions about environmental issues."
Jamie Hayward was among three undergraduates and a graduate student who spent several days aboard the research vessel in late July, along with a United States Geological Survey scientist who is collaborating with Carlin and a USGS technician who assisted in the deployment and recovery of the coring equipment. A grant from the American Chemical Society's Petroleum Research Fund is supporting the project.
Hayward's role was to help extract the sediment from the core tubes and place samples into bags for analysis in Carlin's campus lab. "Through teamwork, we collected all the cores necessary to complete our research project," said Hayward, an Earth science major. "Academically, our success on this research trip is going to help me finish my thesis, pushing me further along towards my goals."
This academic year, Hayward and Victoria Severin, a geology major, will analyze the samples collected for their undergraduate theses and also will present their work at various research conferences.
Previously collected preliminary data showed a significant increase in sediment accumulation in the Monterey Bay region beginning in the late 1960s and 1970s, but was found in only two locations in the ocean, Carlin said.
With his latest study, the researchers are following up on these data to look for a trend that is consistent throughout the area: "We want to determine where the additional sediment is coming from and why," Carlin continued.
Next summer, Carlin and his students will continue the project to collect sediment samples on land in the region, such as in rivers, and on beaches and cliffs.
"We will use these land samples to try and connect the sediment from the cores offshore to the sediment source on land. This will give us a better idea of where the sediment is coming from, and if we observe changes in sediment sources over time."