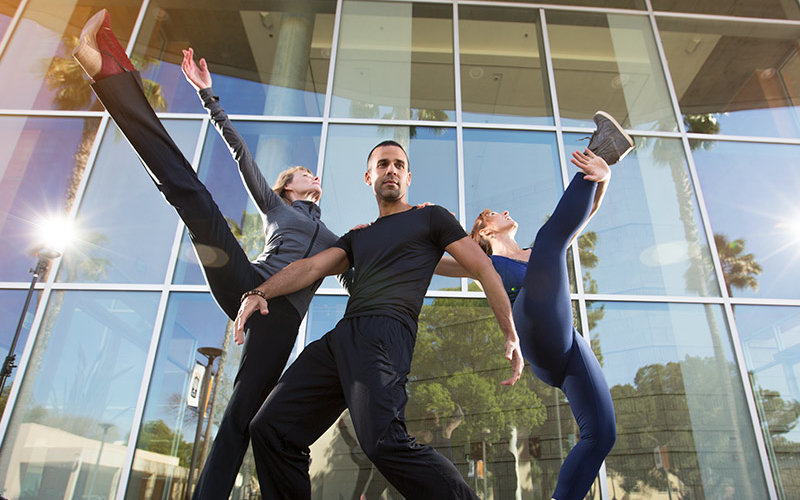 When Abigail DiGrazia starts teaching in L.A. this fall, three names will form part of her troupe: Lester Horton, Martha Graham and José Limón — all contemporaries during the first half of the 20th century, all dance innovators in their own right, each with a dedicated following. They also form the base instruction of CSUF's dance program. 
DiGrazia, who recently completed her B.A. in dance, is starting her own program in a charter school for underserved students in kindergarten through second grade. Training in the Horton, Graham and Limón styles has helped her evolve as a person and as a dancer, she says.
"Each technique has changed my dancing in a different way. The Limón technique helps me have moments of tension with moments of fluidity and release," she explains. "With Horton, it's about building a strong core and long muscles; and the Graham technique has helped me perform emotionally as a dancer and deepen my strength. They have all transformed the way that I see dance, and the way that I dance." 
Programs often focus on a single school of training but this can greatly limit students' outcome once they look for work, says theatre and dance professor Debra Noble, whose teaching incorporates the Limón principles of dancing. "Storytelling, whether verbal or action-based, has been part of our human existence since the beginning. The incorporation of these techniques links our students to this past and encourages them to choose their future with more awareness," she states.
"Having the three foundational techniques keep our students really well-rounded, so they learn three different 'vocabularies' from people who dance professionally," says Lisa Long, assistant professor of theatre and dance, whose professional background is Graham-based. "It's almost like being multilingual — students just get more vocabulary from which to draw when they go out into the dance world beyond academia." 
"We're one of the few dance programs that has all three techniques," says Dale Merrill, dean of the College of the Arts and an active choreographer and master dance teacher. "One of the things that makes this program unique is that it doesn't just build upon these foundational techniques — it helps students apply them in a contemporary context. It helps students like Abigail use these techniques to train the next generation. 
"It's really exciting to see faculty and students transform the teachings of Graham, Limón and Horton — techniques that were experimented with in the 1930s and '40s — and make them relevant today," he adds.
Alvin Rangel-Alvarado, associate professor of theatre and dance, derives his teaching from the pedagogy of James Truitte, who was in the Lester Horton Co. and is known for teaching the Horton technique in its purest form.
"It is rare in the U.S., maybe even the world, that an institution teaches you all three techniques and even researches the connections between them," explains Rangel-Alvarado. "Many dance schools and conservatories teach contemporary techniques that derive from these foundations. The advantage that Cal State Fullerton students have is that they are studying the techniques that actually forged these modern tendencies. They get these fundamentals, but also study contemporary tendencies." 
"Our students attain great physical strength and an artistic versatility by training in all three techniques, along with classical ballet," adds Noble.
DiGrazia already is working on her fall curriculum. "In my modern dance classes, I've decided to incorporate the three techniques that I learned at Cal State Fullerton," she says. "I'm trying to give the children a taste of what I've learned here."
"We're like a well-oiled machine. If one of us misses something, the other will pick it up," says Long. "Between these three techniques, there's not a base we don't cover."