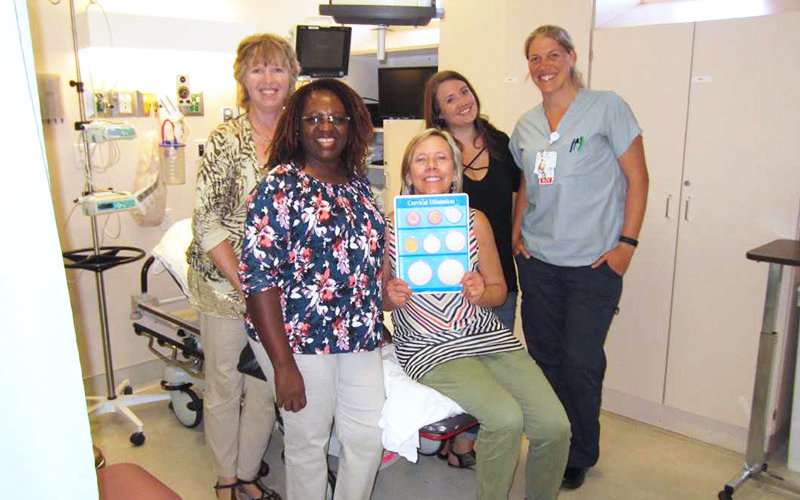 A new partnership between Cal State Fullerton's School of Nursing and Mountains Community Hospital and Rural Health Clinics will place nurse-midwife and women's health nurse practitioner trainees at a critical access point for communities near the San Bernardino Mountains.
The "Rural – Women of the Mountains Accessing New Services (Rural-WOMANS)" Project is being launched through a two-year federal grant expected to total $1.4 million. Year one funding from the U.S. Department of Health and Human Services, Health Resources and Services Administration, is $698,801.
In areas that are difficult to recruit and retain obstetrician-gynecologist physicians and nurse practitioners, the project is designed to expand women's health services and create a pipeline for nursing professionals to serve in rural communities.
"The rationale is that if a student has a positive clinical experience training in an underserved site, that student may be more likely to consider working in that site or a similar site after graduation," Ruth Mielke, associate professor of nursing and women's health care concentration coordinator.
"For the University, the win is that we have additional sites where students can train and come away with immersive clinical experiences."
Students placed at the mountain clinics in Lake Arrowhead and Runnings Springs — or at an already established site in downtown Los Angeles, Eisner Health — are eligible to receive traineeships of $9,116 per semester. Forty traineeships will be available beginning in spring 2018, covering such costs as tuition, living expenses and books.
"My hope is that at least every student in the women's health care concentration has an opportunity to gain exposure to an underserved or rural area, and additionally, receive traineeship funds," said Mielke.
Alongside financial support for students, the grant will allow for the placement of CSUF nursing faculty in the mountain clinics — joining Mielke in the project are Chris Latham, Suzanne Robertson and Asma Taha — to help enhance women's health care services.
"Beyond basic Pap smears, the current women's health care services in the rural clinics are pretty limited. The remote location of the clinics also means it's very likely women are just letting things go and not taking care of health conditions early on," said Mielke. "We're going to work with their staff and help develop the women's health in that whole area."
The grant also will support the hiring of consultants with specialties in rural health, psychiatric and mental health issues, distance learning, health literacy and conflict resolution.
"One of the leading diagnoses in rural areas is psychosis, so part of the grant is bringing in content experts in rural health and psychiatric issues," said Mielke. "Another consultant will help improve the delivery of patient education materials, making them appropriate for the health literacy needs of this population."
Last semester, the School of Nursing tapped the Mihaylo College of Business and Economics to determine effective strategies for drawing more rural women and future health care professionals to the clinics. The report, compiled by MBA students in Susan Cadwallader's Marketing Management class, will help inform future outreach strategies.
"This project establishes a new service and academic relationship between the University and Mountains Community Hospital," said Mielke. "We're really excited for this opportunity, and hope it will be beneficial for our students and faculty, and their staff and patients."