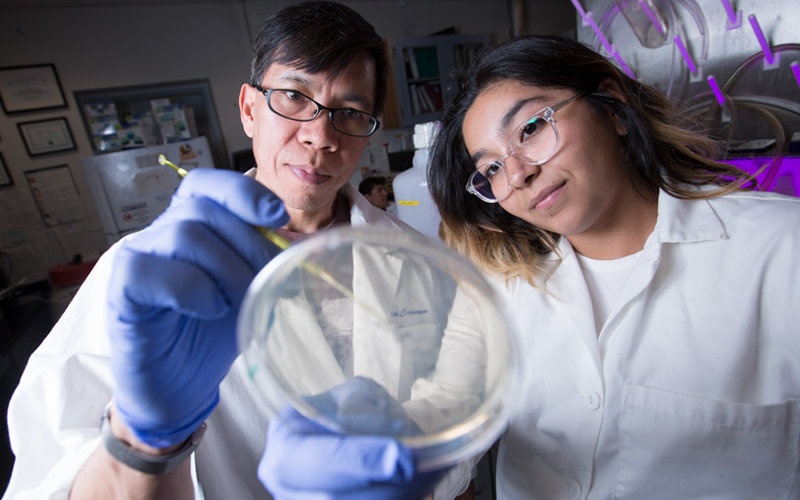 Student researchers are working alongside Cal State Fullerton neuroscientist Math P. Cuajungco this summer contributing to advances into the mysteries of a rare inherited disorder that affects the brain, eyes and stomach.
Over the last decade, Cuajungco and scores of student researchers have been studying Mucolipidosis type IV, known as ML-IV, a lysosomal storage disorder, which means that toxic materials, such as too much zinc, build up in the body's cells, causing the cells to die. The disorder affects motor skills, including walking and grasping objects, as well as speech and vision, and causes muscle weakness and digestive issues. The genetic condition is prevalent in people with Ashkenazi Jewish ancestry.
The ML-IV disease is caused by the loss of, or abnormal function of, a protein called "TRPML1," in which Cuajungco's lab in 2010 found that zinc accumulates in cell compartments, known as lysosomes, of patients with this disorder.
Further research by Cuajungco and his students identified another protein called "TMEM163" that interacts with TRPML1 and binds zinc, which could explain why zinc levels in lysosomes of ML-IV patients' cells are abnormal.
"This discovery provides a novel explanation of how a zinc imbalance occurs in ML-IV cells and how the disease kills the cells," noted Cuajungco, professor of biological science.
The researchers do not know how and why zinc accumulates in the lysosomes of ML-IV cells, prompting ongoing research efforts funded by a nearly $400,000 grant award this year from the National Institutes of Health. Including this recent funding, Cuajungco has been awarded nearly $1 million in grants for his ML-IV research.
Cuajungco's research has been published in several peer-reviewed journals — some papers are co-authored by his students — including a review paper published this spring in Frontiers in Bioscience.
With the new funding, the faculty-student researchers are delving deeper into investigating the TMEM163 protein and whether it is a transporter of zinc and actually contributes to the death of cells, leading to the ML-IV disease.
Undergraduate researcher Vanessa Sanchez is one of eight students in Cuajungco's lab focusing on this latest research project. As a scholar in the Ronald E. McNair Program, Sanchez has spent the summer in the lab studying the function of the TMEM163 protein, in which alterations in the protein sequence could cause its function to change dramatically, Sanchez explained.
A psychology major with a minor in biological science, Sanchez, joins the Maximizing Access to Research Careers (MARC) scholars program this fall to continue her work in Cuajungco's lab. Her undergraduate research training is preparing her for graduate school, including plans to pursue a doctorate in neuroscience.
"By working on this research project, I'm able to do hands-on science, go through the process of trial and error — and help get us one step closer to understanding this protein," said Sanchez, who is on track to graduate in 2019.
For Cuajungco and his students, their hope is that the knowledge gained in their most recent study will result in knowing whether the TMEM163 protein plays a role in the disease itself, and if it does, that a therapeutic drug could be developed to prevent zinc accumulation in cells — and ML-IV cells from dying.
"Ultimately, the data that will be gathered will fill current gaps in our knowledge on the physiological or potentially detrimental function of TMEM163," Cuajungco said.