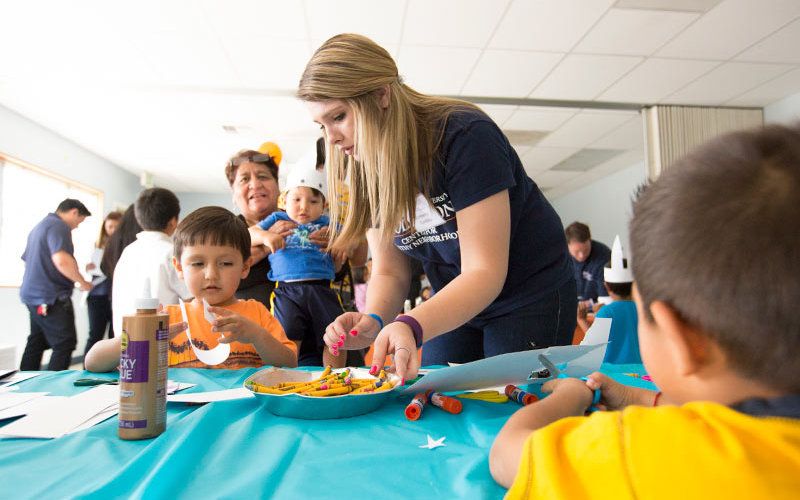 Katherine Bono, associate professor of child and adolescent studies, has always wondered why some people who experience hardships are able to overcome them, while others are not.
In 2015, she teamed up with Melanie Horn Mallers, associate professor of human services, to implement a two-year study focusing on resilience at Cal State Fullerton's Center for Healthy Neighborhoods. The Resilient Families Program measures the effectiveness of increasing skills in the areas of parent-child bonding, stress management and mindfulness, and children's executive function — their ability to regulate thoughts, attention and emotions — as a way to buffer the negative impact of stress. Approximately 25 families in the Fullerton community have participated in the six-week program; many of them face high-stress factors such as poverty, substance abuse and domestic violence.
"From our research on stress in families, we're finding that if parent-child relationships are strong, that child can be protected from the negative impact of parental stress," says Bono.
According to Horn Mallers, poor parent-child relationship quality in childhood is a predictor of allostatic load — the accumulation of stress over time. "Research tells us that people who experience stress early on can develop maps in terms of how they react to stress later on," she explains. "If you've experienced a lot of stress as a child, you're more likely to be physiologically reactive to stress when you're older.
"If we can intervene early on, and prepare children and families for a healthier life, there are huge long-term outcomes," she adds.
University students play an important role in the Resilient Families Program, from studying intervention strategies and collecting data to facilitating child development activities and teaching parenting classes.
"For students to have the opportunity to run community programs like this — and to learn about the research, logistics and science around it — is really an invaluable experience," says Bono.
One such student is human services major Xochitl Vicente, who served as a research assistant for two semesters and aspires to become a marriage and family therapist. 
"I didn't know what to expect from the program or how it would impact the families," she says. "But in just a few weeks, I saw that the families were integrating the exercises we taught them into their lives, and there was a positive shift."
Reflecting on her own childhood, Vicente believes techniques like mindfulness could have helped her cope with the stresses of her father's addiction to alcohol, the family's financial struggles and her role as the oldest of four children.
"When I was younger, a lot of times I felt overwhelmed," recalls Vicente. "I think our family could have benefited from a resource like the Resilient Families Program."
Extending research into the community reinforces the University's vision to be a resource for Orange County and its surrounding areas, says Bono. 
"There's tremendous expertise on this campus," she explains. "If we're able to share our research with the community — and our students are involved in that process — everybody benefits."