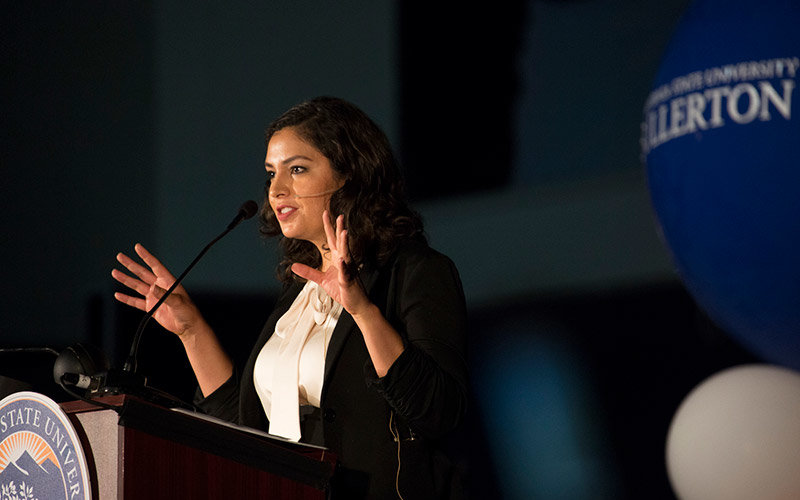 Powered by flickr embed.

For high school mathematics teacher Al Rabanera, attending the Better Together: California Teachers Summit at Cal State Fullerton was a chance to learn from other educators as well as share ideas to enhance student success.
"Collaborating in this setting provided different perspectives to help me to grow as an educator," said Rabanera, a CSUF alumnus who teaches at La Vista High School in Fullerton.
Michelle Kamhi, a sixth-grade teacher at Dysinger Elementary School in Buena Park and a CSUF alumna, echoed the sentiment, adding that the July 28 day of learning gave her the inspiration and motivation to try new things in the classroom: "We're all trying to be better teachers."
Close to 1,000 teachers attended the campus event, where educators gathered to listen and learn from one another, including from education veterans like keynote speaker Jill Biden, wife of former Vice President Joe Biden, who shared valuable insights from her 30-year teaching career. Biden's talk was livestreamed to 35 host sites across the state, including CSUF, from Saint Mary's College of California near San Francisco. 
"Being an educator is about bridging divides, coming up with creative solutions and finding a way forward, even when it's tough," said Biden. "When I think about the challenges we face as a nation and as a global community, teachers are the people who give me the most hope."
The third annual Teachers Summit brought 10,000 teachers from across the state together to share ways to empower California students, protect their values as educators and set an example for the nation. The California Teachers Summit is a partnership between the California State University, Association of Independent California Colleges and Universities and New Teacher Center.
CSUF hosted TED-style EdTalks, Edcamp discussions on teacher-selected topics — from advice for student teachers to digital citizenship and new state science standards — and afternoon workshops presented by CSUF education faculty members and teachers from partner school districts.
Mayra Orozco, a fourth-grade, dual-language immersion (Spanish/English) teacher at George Washington Elementary School in Norco, and Alastair Inman, a science teacher at Cypress High School, delivered the EdTalks.
Orozco was born in Guadalajara, Mexico, immigrated to the U.S. at age 5 and started elementary school without knowing a single word of English. "I did not see myself in the lessons or curriculum they taught," said Orozco during her presentation on "culturally responsive teaching."
Orozco, who became a U.S. citizen as a young teen, told teachers in attendance that as a fellow in CSUF's National Science Foundation-funded project, "Transforming Academic and Cultural Identidad Through Biliteracy," she learned how to implement a culturally responsive lesson, which means including students' cultural referents in all aspects of learning. With her professors, "we designed culturally relevant math and science units that were authentic and engaging."
Orozco shared other similar lessons she's used in her own classroom and suggested her fellow teachers do the same.
"I urge you to find your connection to the community you serve. Engage their families and make them feel valued. Embrace your students' culture and challenge their thinking. In the words of José Medina from the Center for Applied Linguistics, 'Tenemos que estar preparados para abogar por las familias y alumnos que servimos.' We need to be prepared to advocate for the families and the students we serve."
The fourth annual Teachers Summit is scheduled for July 27, 2018.