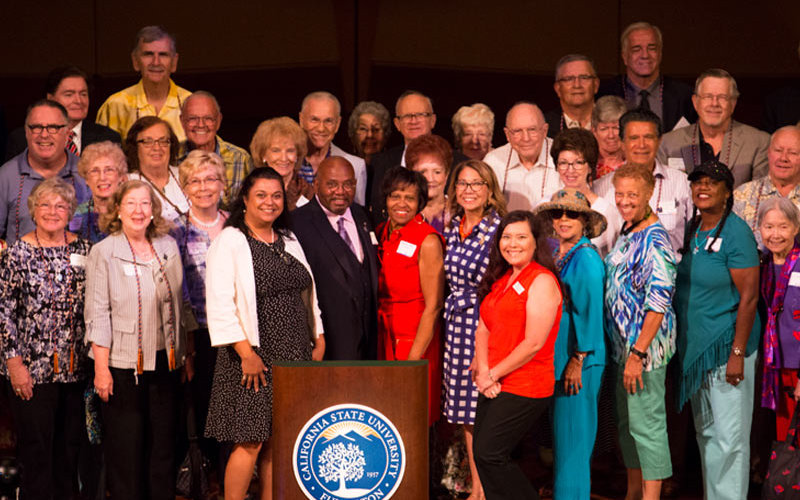 Among those in the audience listening to President Mildred García give her annual convocation address this week were new-to-campus faculty and staff members, campus veterans and a special group: faculty, staff and students who put their faith in a university when it was brand new.
Sixty years since the state Legislature made it a reality, Orange County State College has grown from a handful of temporary buildings to a bustling campus helping some 40,000 students achieve their educational dreams.
Their hair may be gray, and some of them walk with the aid of a cane, but these early students and faculty members were excited as they returned to their alma mater and shared their student experiences and pride in how Cal State Fullerton grew and matured.
"I didn't realize what a golden age I was in while I was a student on campus," said Carl Lenhart '67, who returned to campus with his wife, Margot '68,'70, from Boston. Lenhart remembers that parking — on dirt — was free when he attended campus. Margot worked in the Ethnic Studies Department next to the bookstore, located in those days across the bridge from the main campus in what is now Hope University.
Ernest Toy, the university's founding librarian, remembers his first mission for the campus: to build a good research library and one that would be a usable library for students and faculty members.
"It was all well and good to drive to UCLA to use their research facilities, but it's not so easy when you are working full time," he explained as he looked over at the building he helped shape. "I had to build a facility and a collection of work that would serve all the needs of the campus."
In those early days, Jack Hale '62 remembered connecting "Titan" with elephants after a conversation with Ernest Becker, founding dean of students, who had lived in India. Hale had spent part of his youth in East Africa.
From that connection came the idea of an elephant race during the inaugural Day of the Titan on May 11, 1962. Upon learning that the U.S. Coast Guard owned an elephant, the students challenged them to a race, Hale remembered.
"They didn't count on some of us knowing about Jungleland, where Hollywood got its animals," said Hale. When the Coast Guard turned down the invitation, invites were sent to 50 other colleges and universities, including Harvard and Oxford. Harvard and 15 other institutions of higher learning signed up.
"Then," said Hale, who rode the elephant for the Fullerton campus, "it got crazy."
The race garnered worldwide coverage and acclaim.
Mary Sampson '68, '71 was a transfer theatre arts major from Fullerton College. "I was very impressed that the Performing Arts Center was the second campus building to be constructed — before the library, the gym. That really meant a lot."
Sampson would be part of a directors class in which one of her fellow students staged the controversial play "The Beard," causing widespread uproar. "It haunted me for a while. Every time I was interviewed, I was asked about the play."
The controversy never changed the way she feels about her alma mater. "I love the campus, and I'm here just about daily," she said with pride. Sampson is a member of the Osher Lifelong Learning Institute, where she teaches several classes, and has held season tickets for the theatre and dance productions since the institution of season tickets. "I am pleased and proud of the program."
"This was excellent," said Terry Dickens '67, the first president of the Conference of CSUF Alumni, following the morning convocation. "It's amazing to see the international impact that the University is having and, of course, the programs have become so strong.
"My first year here, they had just opened the Letters and Science Building, which is now named after Miles McCarthy, one of our great professors. How quickly the campus grew."
Dickens also remembered coming back to campus to see "his favorite instructor," Irene Lange, who was awarded emeritus status this year after more than 50 years on the faculty, including serving as chair of the Marketing Department. She sat across from Dickens during the Aug. 14 luncheon for the Titan Founders. "I remember asking her if she would ever retire, and she said, 'Why would I? This is my life.' I'm happy that I'm part of this family."