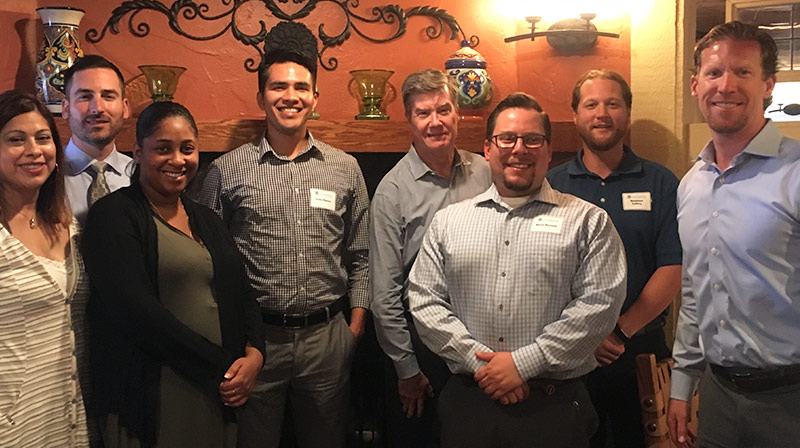 Over the past few months, Lake Forest City Manager Debra Rose has spent time learning about a pest that could devastate Orange County's urban forest, proper methods to relocate wildlife, construction issues related to building a multi-million dollar civic center and options to produce affordable housing.
"There is no typical day for a city manager, which is what makes the job both exciting and challenging," says Rose. "I think people would be surprised to learn about the breadth of services that are provided by cities which, in turn, demands that city managers quickly come up to speed on a wide array of issues."
The Cal State Fullerton alumna, who received her master of public administration degree in 1997, is one of four city managers serving as mentors for the 2017-18 City Management Fellowship Program. The other mentors include Placentia City Manager Damien Arrula, Tustin City Manager Jeffrey Parker and San Juan Capistrano City Manager Ben Siegel.
In addition to receiving mentorship from local government officials, this year's graduate fellows — Stephen Coffey, Ivan Flores, Jazmine Hooks and Ryan Ramos — each will benefit from a $1,000 scholarship and one-year membership to the Municipal Management Association of Southern California, and have the opportunity to attend city management workshops and public administration conferences.
"I had such a great experience in Cal State Fullerton's M.P.A. program that I wanted to do my part in helping the next generation of public administrators," says Rose.
"One of the most valuable skills I honed in the M.P.A. program was the ability to think critically. For example, the coursework taught me to analyze complex, technical information and use it to make solid policy recommendations to the city council," she explains.
Siegel, who graduated from CSUF's M.P.A. program in 2007 and helped initiate the City Management Fellowship Program, also credits his alma mater for preparing him to tackle the unique challenges of working in a public agency.
"My M.P.A. from CSUF has been essential to my career in local government. It provided the theoretical foundation to understanding a public organization," he says, adding, "It is remarkable to see how theories of management, organizational culture and leadership written nearly 100 years ago are still entirely relevant today."
In any given day, Siegel works with experts from a variety of fields, such as finance, law and engineering.
"Because there are several potential residential and commercial development projects under consideration in San Juan Capistrano, I spend a great deal of time with developers and attorneys discussing issues involving land use planning and environmental regulations," he says. "I find the diversity of the job to be the most challenging yet also most appealing aspect of being a city manager.
"It wasn't too long ago that I was a student in the M.P.A. program," says Siegel. "I hope to be able to share with program participants my observations of the core competencies necessary to succeed in the field, and help them navigate their own path to professional fulfillment."
Now in its sixth year, the City Management Fellowship Program is a collaboration with the Orange County City Manager's Association, and is funded by corporate and individual donors.